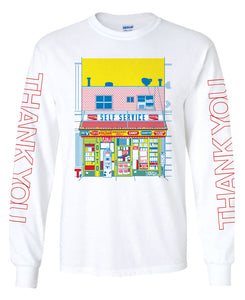 Vizie's Vazaar long sleeve shirt
 We're excited to drop this brand new print and matching long sleeve shirt from East Coast wizard of spraypaint and vector art, Vizie! This three color art print, bursting with ultra bright fluorescent inks, is a love letter to the indispensible New York corner store. From milk and produce to aspirin, beer, magazines, chips, bacon egg & cheese sandwiches, and loose cigarettes, The Vizie Vazaar has got it all.

He's included all the details like the classic awning, tagged and blown out payphone, Coca-Cola privilege sign, and that timeless bodega yellow.

This is a PRE-ORDER. We are beginning production soon and will be mailing out shirts in January, 2021.

+ + LONG SLEEVE SHIRT + +
3 color screenprint on white long sleeve shirts
+ print on both sleeves

screenprinted by Tim Holly

BONUS: Save $10 when you purchase the print and shirt together!

Regular price $40.00 Sale