WHAT IS BURLESQUE ?
What began as a handful of dudes piecing together a graffiti magazine has grown into a multi-disciplinary team of graphic artists and screen printers. Since 2003, Burlesque has been producing screen printed concert posters, developing and publishing limited edition prints with a range of fine artists, designing logos, product packaging, and identity systems, organizing and hosting art exhibits and music showcases, painting large scale murals, giving presentations and lectures about our work, and presenting our art in gallery shows and events across the globe. We're always a good look.
HISTORY
THE LSD ERA
In the mid-1990s, a group of young Twin Cities-based graffiti writers decided to publish their own magazine. Using their writing and illustration skills and fully exploiting their after-hours access to unlimited color copies, the crew released the first issue of Life Sucks Die Magazine. Named after a mixup of punk rock icon G.G. Allin's "Life Sucks Scum Fuck" and "Live Fast Die" tattoos, LSD wildly defied the rules of the already defiant genre of graffiti magazine with their eye-popping collages of roadkill photos, tabloid clippings, pornography, junk culture, the best graffiti flicks from all across the globe, and articles ranging in subject matter from shoplifting to hair weaves to littering to toilet clogging tips. In the years to follow, aspiring graffiti magazine entrepreneurs attempted issue after issue to out-LSD LSD. While nobody managed to successfully rip off the style of Life Sucks Die in creating a new magazine, the influence this magazine had on the graffiti world, hip hop world, skateboarding world, and other various subcultures was more apparent than ever.
I'M GOING THROUGH CHANGES

During the summer of 1997, the cast of Life Sucks Die made their way down to St. Louis MO for the annual Paint Louis graffiti festival. There, they met and befriended Mike Davis, a graffiti writer / graphic design student / DJ. Shortly thereafter, Mike was invited to write and contribute design assistance to the next few issues of LSD. Over the next several years, the lead designers from the magazine, Wes Winship and George Thompson, would help raise funds for the magazine by organizing parties featuring performances from local hip hop and punk rock acts including Dillinger Four, DJ Andrew (Broder, Minneapolis musician of the groups Fog and Cloak Ox), and the Rhymesayers crew right in their salad days. On the side, Wes and George created album artwork, t-shirts, posters, and other promotional designs for Rhymesayers, Fobia Skate Shop, anticon Records, and other small companies run by friends and extended family, often bringing in the assistance of Mike Davis and LSD art contributors Todd Bratrud and Aaron Horkey.

By about 2003, the staff of Life Sucks Die decided to put the magazine on the back burner and shift their focus towards the various design projects which had begun to stack up. Bored of the music and art scene in St. Louis and ready for a change of pace (and weather), Mike decided to move up to Minneapolis to continue working with Wes and George, who were working as full-time freelance graphic artists in the LSD office, an 800 square foot cave on the 6th floor of what was referred to as The Spice Factory - a decrepit warehouse near the University of Minnesota. There really was a spice factory in the building, filling the air with a gut-wrenching stench comprised of lemon, cinnamon, and urinal cakes. The crew was joined in the office by web designer / photographer / bicycle enthusiast / bread and olive oil consumer Skye Rossi, who would help with web projects and event organizing.
PRINTS AND THE REVELATION

In the Summer of 2003, Wes, who had been designing calendars, flyers, and magazine layouts for downtown Minneapolis' First Avenue nightclub (which you might remember from a little film called Purple Rain), designed and screenprinted a run of posters to sell at the club's two consecutive nights of Ween concerts. The posters were printed in Wes' apartment basement in South Minneapolis with a homemade press, homemade screen exposure unit, homemade print drying station, homemade screen washout area, and homemade just about everything else. Even if LSD was no longer in production, the magazine's D.I.Y. aesthetic and creative approach was still very much alive. When every copy of the poster brought down to First Avenue was snatched up by the concert-goers, Wes realized he might be on to something with this whole poster-making game plan. Following the success of the highly popular Ween poster, Wes kept his engines revved up and turned out a slew of screenprinted posters for local concerts from Atmosphere, Why?, Peaches, The Soviettes, Acid Mothers Temple, The Blinding Light, and more.

By Autumn of 2003, Wes had convinced friend and longtime collaborator, rural Minnesotan visual artist extraordinaire Aaron Horkey, to create some art for a few upcoming concert posters. Shortly thereafter, Aaron handed over the drawings for his first ever screenprinted concert poster for Andrew Bird's 2003 performance at Uptown Minneapolis' Bryant Lake Bowl. The artwork was prepared for print and screenprinted by Wes Winship and the poster was an instant smash hit. Several Aaron Horkey designs and Aaron & Wes collaborative designs followed.
In 2005, print work had piled up considerably. Burlesque was quickly gaining the attention of poster and design enthusiasts with the help of the online rock poster community at GigPosters.com. Several local and national music acts and other companies were approaching us with design and print projects large and small. With artwork coming in from Horkey, Todd Bratrud, George Thompson, Mike Davis, and of course Wes, and poster projects lined up for Rhymesayers, Bonnaroo, and a new band who called themselves The Arcade Fire on the horizon, it was clear that Burlesque was going to need some help in the print room. Wes enlisted the help of screenprinting enthusiast Ben LaFond to come assist with printing and print-related duties. Genetically dispositioned to print, eager to learn, and ready to put in some work, Bennie quickly learned his way around the new semi-automatic presses and helped crank out some great posters.
SPICE WORLD

Design and print work was flowing steadily through the studio, posters were flying off of the presses and flying out the door, album covers and t-shirts were being designed and sent off, and the gang even managed to design and construct a full-sized mini-golf hole inside the space before transferring it to the Walker Art Center. Inconveniently, the screenprinting studio was located three floors up from the design studio. Neither room offered the space to host guests or clients, nor did they provide a substantial escape from the vile, aforementioned Lemon-Cinnamon-Urine™ stench which permeated every cubic inch of the building.

Adding in the ever-growing clutter of books, records, vintage toys, artwork, and office supplies, not to mention the milling rumors of the forthcoming demolition of the Spice Factory building, a larger and more cohesive office space was absolutely needed. After perusing nearly a dozen warehouse spaces throughout the metro Minneapolis area, a 3000 square foot studio at the corner of Stinson & Broadway in Northeast Minneapolis was chosen as the new home of Burlesque's screenprinting studio, design office, print archive and mailorder center, and art gallery. A former pro wrestling gym and, more recently, an art framing studio, the space provided ample room to fit all of Burlesque's printing equipment, design paraphernalia, prints, toys, vintage weird stuff, furniture, and there was even enough room to host a few hundred friends! In the Spring of 2006, Burlesque enlisted the help of some very generous friends (and their trucks) to move aaaaaaaaaaaaall of their crap out of the Spice Factory and into their new home at 1101 Stinson Boulevard Northeast.
ONWARDS AND UPWARDS

On the evening of September 29, 2006, the public was invited to the grand opening of the new Burlesque studio and the gallery known as First Amendment Arts. The walls were covered with prints, paintings, photographs, and illustrations from Broken Crow, Miss Amy Jo, King Mini, Eric Inkala, Aesthetic Apparatus, Adam Turman, and of course Burlesque. T-shirts were printed live on the spot, and there were DJ sets from Mike 2600, Paper Tiger, and Espada, plus live performances from HeatdeatH, P.O.S, and other members of Doomtree.




While there was no official headcount, it is estimated that between 300 and 500 people came through to celebrate and see the new space. Over the next few years, First Amendment would host art shows featuring work from Shepard Fairey, Chris Ware, Mark Ryden, Jay Ryan, Little Friends of Printmaking, Aye Jay Morano and his son Cohen, Isle of Printing, Hardland/Heartland, plus musical performances from Calvin Johnson, Mount Erie, Chooglin, Martin Devaney, Red Pens, The Book of Right On, The Millionth Word, and Brother & Sister, racking up numerous Best Art Gallery awards from Twin Cities entertainment publications City Pages and Vita.Mn.

Since moving into the 1101 building, Burlesque stayed hard at work, grinding on design and print projects for X Games, 3M, Arcade Fire, UFC, The Walker Art Center, Toyota, The Seventh Letter, Minnesota Public Radio, Nike Sportswear, Ron English, Deathwish Records, David Choe, Target, Kidrobot, Stones Throw Records, and Rhymesayers, selling prints and merchandise several times each year at local craft shows as well as the national Flatstock poster shows, and showcasing their artwork in galleries from St. Paul to Los Angeles to Tokyo to Chicago to San Francisco to Calgary to Kansas City.




In the Spring of 2010, Burlesque received word from the owners of the Stinson Blvd building that a new space was opening up, exactly one floor above the print studio. The wide open 2500 square foot room presented a whole new realm of possibilities for art projects, so Mike and Wes teamed up with friend Joseph Belk and his crew to run the gallery. On June 26, 2010, the doors to CO Exhibitions were opened to art lovers for the very first time and have remained open to feature exhibits from Aaron Draplin, 123Klan, John Baizley, Jacob Bannon, Michael Gaughan, Doomtree, and Burlesque and Permanent themselves. Since Summer 2012, Burlesque has taken full charge over CO Exhibitions, curating a diverse range of shows and events in the space along with the help of Gallery Director Katie Skujina.


KEEPIN IT MOVIN'

After having printed dozens of works for him and bringing him in as an extended member of our family, artist John Baizley approached us with a proposal to organize an exhibit of BRLSQ-produced prints to coincide with Roadburn, the annual heavy music festival in Tilburg, The Netherlands. In Spring of 2017, FULL BLEED was born and we set up shop in Tilburg to share some of our favorite print work from some of our favorite artists with all of the Roadburn Festival attendees. This event grew to become a family reunion, where we spent time collaborating with artists like John Baizley, Richey Beckett, Becky Cloonan, Jacob Bannon, Thomas Hooper, Marald Van Haasteren, Arik Roper, and others whose artwork we have printed and published throughout the years. Additionally, we have popped up at numerous events to display and sell our work alongside our fellow designers and printers. You may have caught us at Flatstock at SXSW, Pitchfork Music Festival, or Bumbershoot, MondoCon, No Coast Craft-o-rama, or at the Midtown Farmer's Market.
Meanwhile, Wes Winship reignited his love of painting murals and large scale portraits. After painting live at Soundest, Red Bull Synesthesia, and Eaux Claires Festival, he teamed up with NMPH and other local artists to start the BRLSQ Public Works Division. When not keeping an eye on the print shop, Wes focuses his creative energy on colorful murals and show-stopping large format portraits. In 2019, he and Mike Davis teamed up with Forecast Public Art and Saint Paul's Creative Enterprise Zone to help produce Chroma Zone, Minnesota's first mural festival featuring 15 large outdoor murals being painted by local and international artists over the course of one week.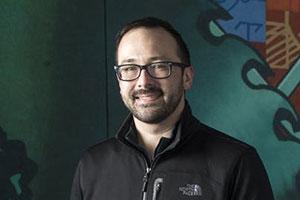 Wes Winship
Co-owner, print shop R+D, designer, painter at BRLSQ Public Works Division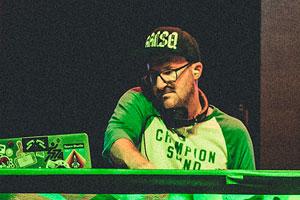 Mike Davis
Co-owner, graphic designer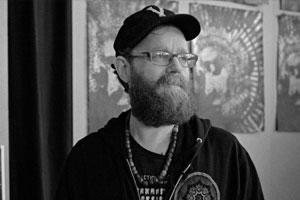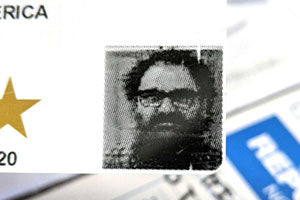 Michael Drivas
Office manager
PRESS
Adventures In Design Episode 145: Mike Davis & Wes Winship (March, 2015)

Star Tribune: From Nye's To 3M: Minneapolis Design Studio Paints The Town With Bright, Graphic Murals (February, 2018)

City Pages: Mike Davis: I'm Alternately Really Excited About Music Or Art & Design (January, 2013)

Star Tribune: Painting The Town With Graphic Murals by Burlesque of North America (February, 2018)

Saint Paul Pioneer Press: 9 Questions With Minneapolis Graphic Designer Mike Davis (June, 2016)

NBC News: Refugees Welcome Stickers In High Demand (December, 2015)

MPR News: Minneapolis Print Shop Finds Warm Embrace For Refugees Welcome Stickers (December, 2015)

Walker Art Center: Refugees Welcome: A Storefront Sticker Campaign By Veda Partalo And Burlesque (December, 2015)

Design Milk: A Mural That Represents Spontaneous Creativity And Collaboration (December, 2016)

Juxtapoz Magazine feature (June 2010)

Small For Big: Mike Davis Makes the ABCs Rock (May, 2012)

Grain Edit: Mike Davis Interview (March, 2008)
LECTURES / WORKSHOPS
"Goin' Postal" workshop at AIGA Austin's Design Ranch (Hunt TX, April 2018)

CreativeMornings (Minneapolis MN, April 2017)

Adobe Creative Jam (Minneapolis MN, April 2017)

Design presentation for staff of Quality Bike Products (Bloomington MN, January 2017)

Design lecture for Graphic Design students at Wayzata High School (Plymouth MN, January 2017)

"New Dimensions In Poster Making" workshop at Nike Blue Ribbon Studio (Beaverton OR, November 2016)

Adobe Creative Jam (Minneapolis MN, June 2016)

Presentation on the Refugees Welcome project at the Stephan Weiss Lecture Series "Design & Flow" event at Parsons School For Design (New York NY, May 2016

Show & Tell Lecture Series at Portland State University (Portland OR, April 2016)

Design lecture for staff of 3M Global Design Lab (Maplewood MN, October 2012)

Multiple presentations to Intro To Design Software students at Minneapolis Community Technical College (Minneapolis, 2011 - 2018)

Art Institute Minneapolis (Minneapolis MN, November 2009)

Summer poster design camp for the students of the Walker Art Center Teen Arts Council (Minneapolis MN, August 2007

Design and screenprinting presentation at Flashbelt (Minneapolis MN, June 2006)
EXHIBITS
"FULL BLEED" at Roadburn Festival (Tilburg, The Netherlands, April 2017-2019)

"もしもし" at Cedok Zakka Store (Tokyo JP, April 2018)

"The Art of Burlesque of North America" at Compound Gallery (Portland OR, April 2016)

"Red Bull Synesthesia" BRLSQ-produced group exhibit at Solar Arts Building (Minneapolis MN, November 2015)

"Press Check" at The Seventh Letter (Los Angeles CA, October 2015)

"Now That's Paper" at Amplified Art (Raleigh NC, April 2012)

"Slow Jams & Dedications" group show with Hero Design & Mike King at Cotton Candy Machine (Brooklyn NY, November 2011)

"Well Done" exhibit at Nicodemus Art & Framing (Saint Paul MN, July 2010)

"The Screenprinted Work of Burlesque of North America" at Merwin Gallery at Illinois-Wesleyan University (Bloomington IL, Nov 2009)

"NON Consensual POST Dada CONSTRUCTIVIST Cerebral WARTS" group exhibit with Tom Hazelmyer, The Melvins, and more at SOO Visual Arts Center (Minneapolis MN, October 2009)

Exhibit at Mystery City (Chicago IL, November 2006)

"First Blood Part III" Burlesque group exhibit at OX-OP (Minneapolis MN, March 2005)