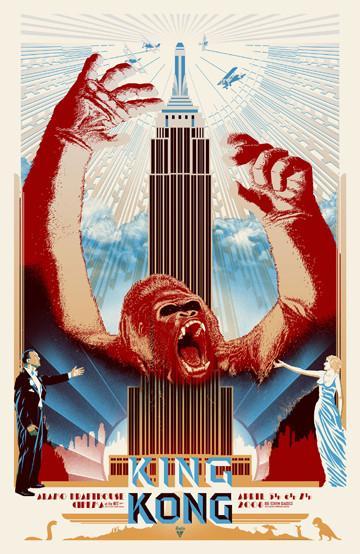 King Kong
Wes brought the art deco cannons out to help commemorate a screening of the legendary film King Kong at Austin, TX's Alamo Drafthouse movie theater. This is the largest poster we have ever printed. 26 x 40! HUGE! See the people at the bottom of the poster? They're shown at ACTUAL SIZE! Not really, but this thing is huge for real though.

Signed & numbered by Wes Winship
Edition of 150
Arcade Fire: Chicago Fall 2004
So here it is - the very first poster(s) we ever designed for Arcade Fire!

Our friend Erik Westra at the Empty Bottle hipped us to this great new band that has been blowing the F up as of late due to their excellent debut album and riveting live shows, of which they seem to be doing many. The name "Baroque Disco" came up when trying to describe them recently but that may not be accurate at all... Maybe more Neutral Milk Hotel and Pixies with occasional dance beats.

Erik had us do the posters for the two Chicago shows they were playing. He said "Why don't you do two posters that when you put them together form on big image?" So that's what we did. It's also about the life and times of an inventor / scientist / adventurer named Herbert Donnelly Buckner Esq. The band loved the design and made sure to contact Wes when they were in Minneapolis the following night. The rest is history.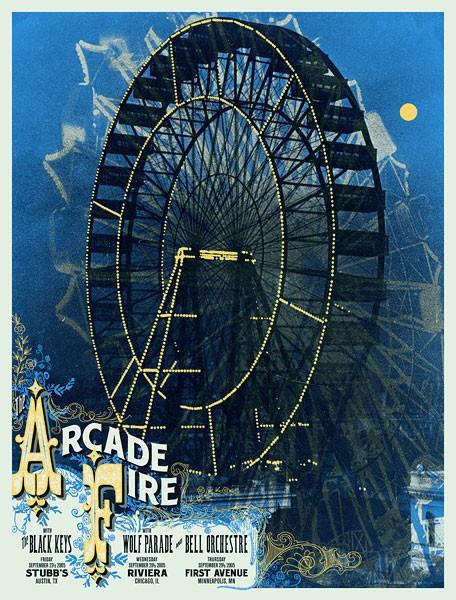 Arcade Fire: US Fall 2005
Wes Winship's infamous ferris wheel print for Arcade Fire's late September 2005 tour stops in Austin, Chicago, and Minneapolis is one of our most asked-about posters. We think all the answers are right there in the poster itself. Just have a look... Stare into the ferris wheel.. Yessssssss...
19 x 25"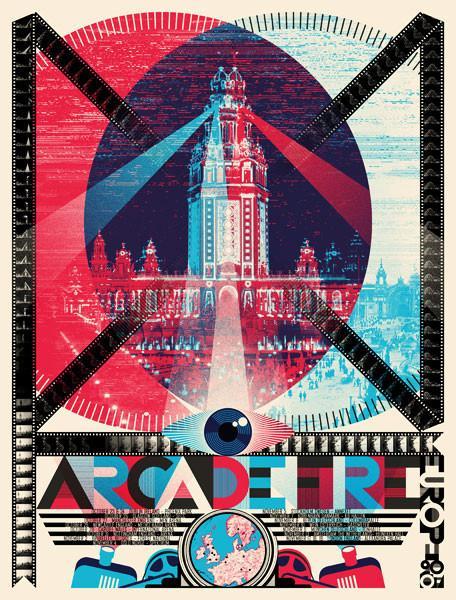 Arcade Fire: Europe 2007
Arcade Fire's Fall 2007 European tour poster. The all-seeing eyeball is watching you, even overseas. Yes, you.

19 x 25"
3 color screenprint on French paper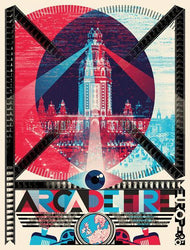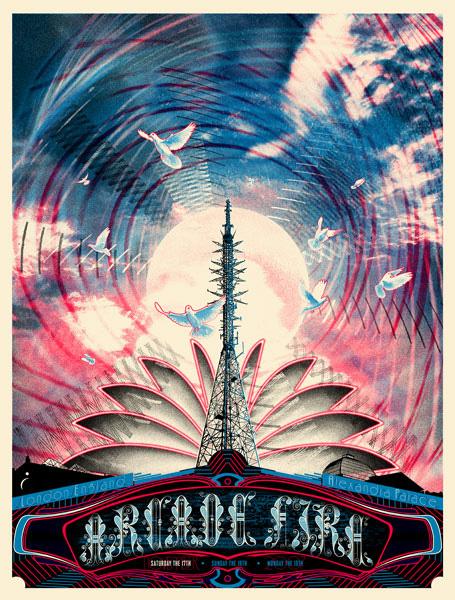 Arcade Fire: London Fall 2007
Wes Winship's gorgeous designs for Arcade Fire's three night run at London's Alexandria Palace. Choose from Saturday (sun in the sky), Sunday (sun on its way down), Monday (here comes the night time), or any combination of the three!
These prints are from the original 2007 screenprinted run.

19 x 25"
3 color screenprint on French Construction Whitewash paper
Signed and numbered 
Screenprinted by Ben LaFond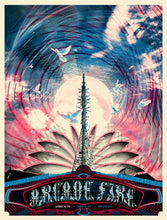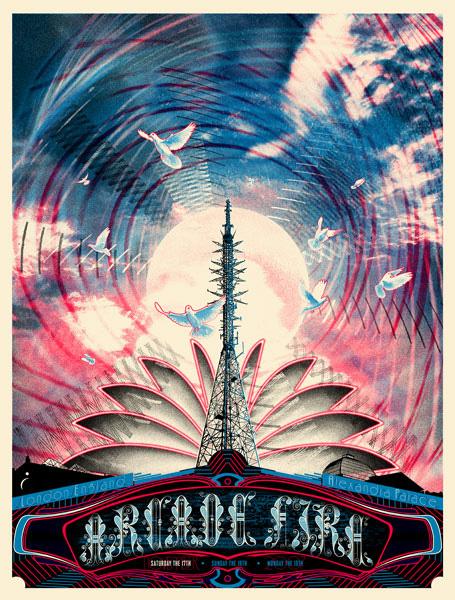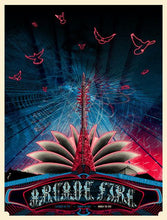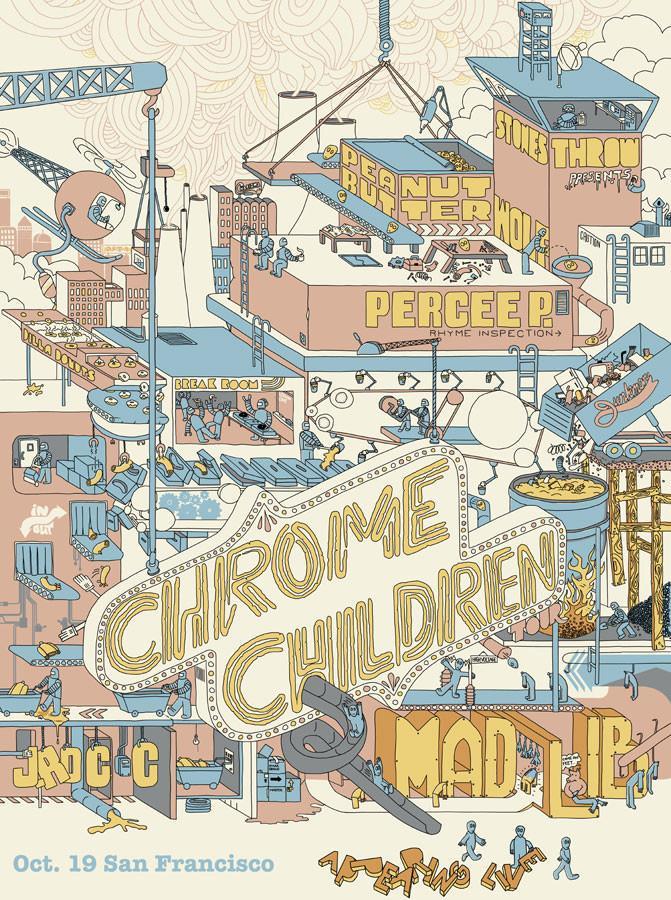 Chrome Children Tour poster
We had the opportunity to design and screenprint a poster for Stones Throw Records' "Chrome Children" tour. The string of Fall 2006 live dates featured live performances from rapper Percee P and DJs Peanut Butter Wolf, Madlib, and J. Rocc, all in support of "Chrome Children," a compilation of songs from Stones Throw artists co-released by the folks at Adult Swim.

For the poster design, Wes and Mike conceived a giant, multi-level factory where chrome children are manufactured. Robot workers are show assembling all of the different limbs and body parts while the party keeps crackin' in the break room. Lots of little details to look at in this hand-drawn gem.

19 x 25"
4 color screenprint on French paper
Signed and numbered by Wes Winship and Mike Davis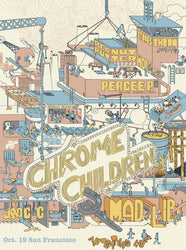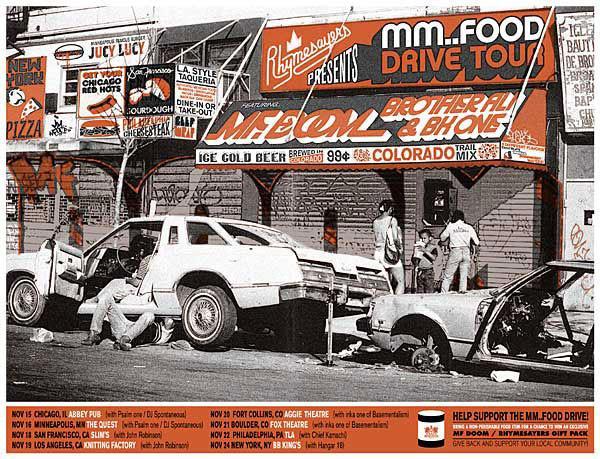 MF Doom: "Mm..Food Drive" Tour
We were thrilled to the gills to have the chance to design MF DOOM's album release tour poster. Our original top secret idea didn't work out, but rest assured we'll come through with it soon enough, and heads will cold get flown, yaoming? But here is the tour poster which DID happen, a typical street scene in Brooklyn, NY, circa 1982, with DOOM's bodega hopping as usual. Stop in for specialty food items from each featured city along the tour, including Minneapolis' Jucy Lucy. You can't tell in the JPG, but the giant DOOM graf is printed in metallic silver ink.

26x20"
3 color screenprint
Signed and numbered by Mike Davis and Wes Winship
Edition of 40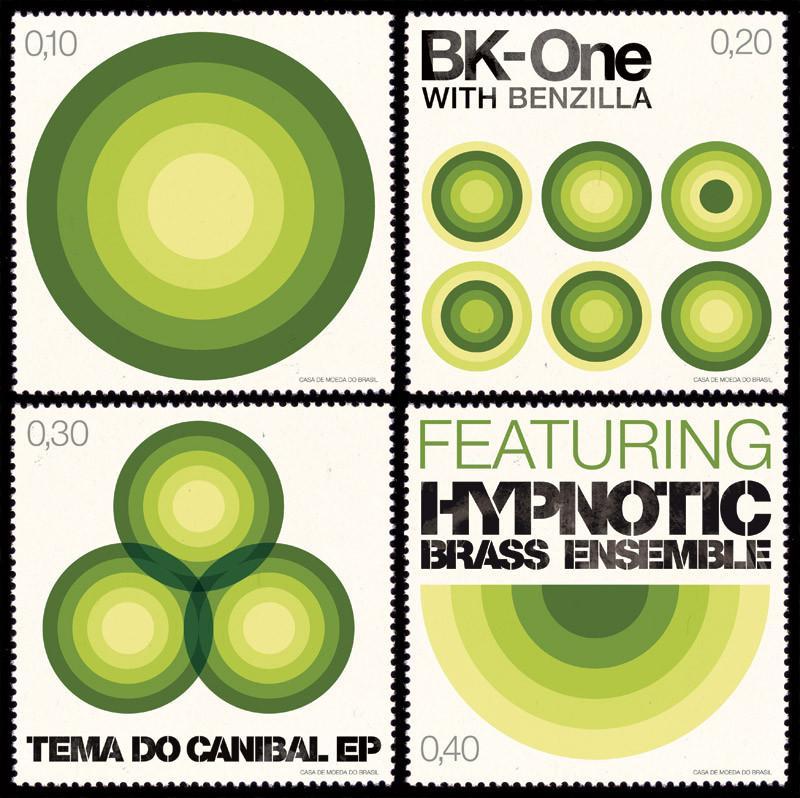 BK-One: Tema do Canibal EP
The minimal postage stamp theme continues as BK releases the first vinyl single from his "Radio Do Canibal" album. The EP features a crazy new verse from Burlesque favorite MF DOOM, a gorgeous original reinterpretation of the title track by Brazilian legend Arthur Verocai, and a bangin' uptempo remix from our own Mike 2600!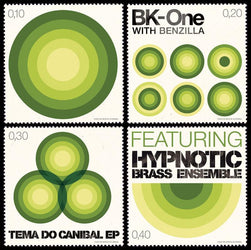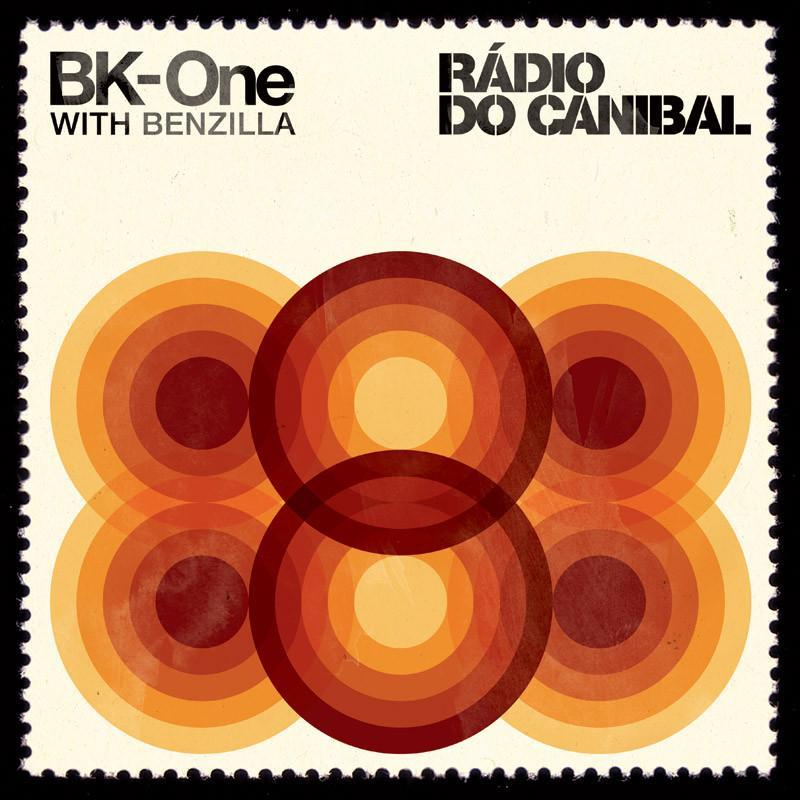 BK-One: Rádio do Canibal LP
Rhymesayers DJ, producer, and friend of Burlesque BK-One contacted Mike to design the packaging for "Rádio Do Canibal," his LP of hip hop tracks comprised of samples culled from Brazilian records. After Mike showed BK his collection of 1970's-era Brazilian postage stamps, it was agreed that a colorful, geometric stamp-inspired design would be the way to go to represent the music on the album.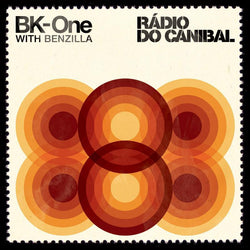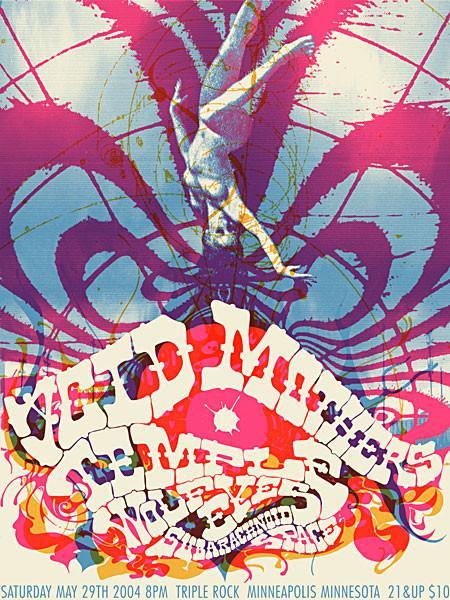 Acid Mothers Temple
Psychedelic mayhem. Absolute mind-melting, face-destroying imagery from Wezz. Poster created for the Japanese freakout rock group's 2004 stop at Minneapolis' Triple Rock Social Club.

3 color screenprint
Signed and numbered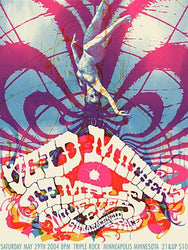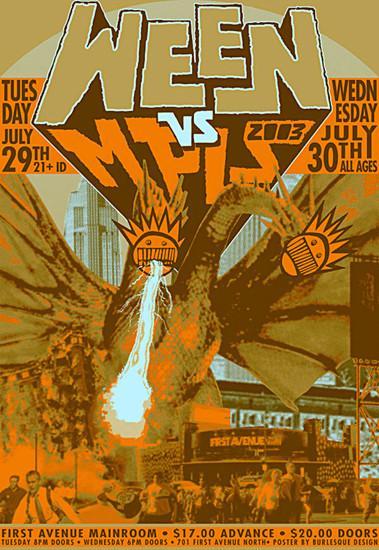 Ween Vs Minneapolis
Ween-faced Godzilla monsters crush downtown Minneapolis! Designed and hand-printed by Wes Winship for Burlesque. This poster is a huge part of Burlesque's history. Considered by some to be our breakout poster, its approval with Ween fans inspired us to keep on keepin' on!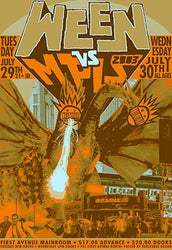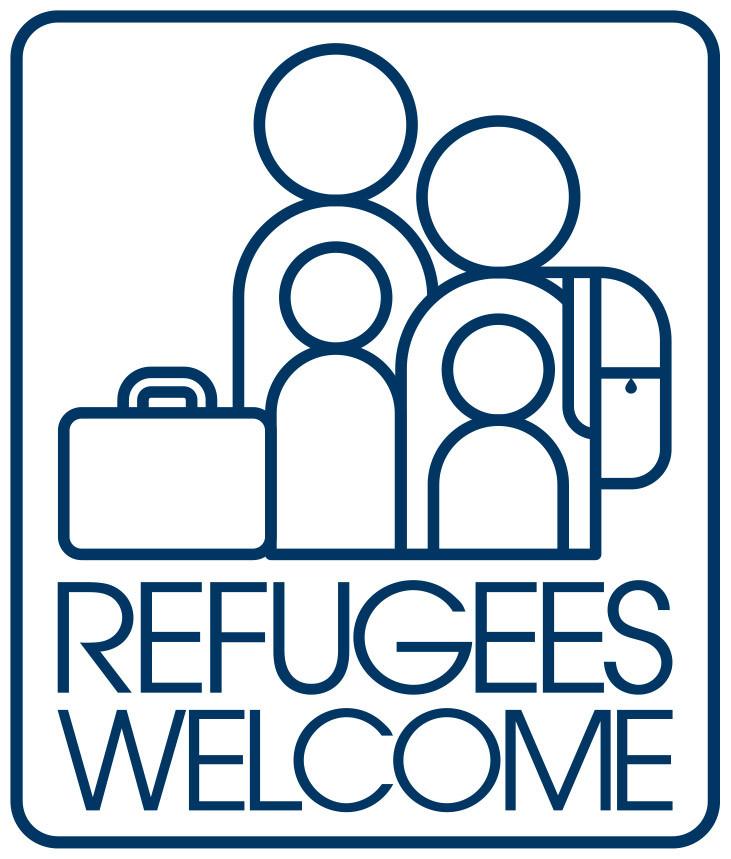 Refugees Welcome Sticker Set
Help share a positive message in your community with the Refugees Welcome sticker! As featured on
NBC News
,
Star Tribune
,
Minnesota Public Radio
, and the
Walker Art Center Design Blog
. A collaboration with our good friend Veda Partalo, this sticker helps drown out all of the negative and fearful rhetoric which has been plaguing our country as of late. Perfect for your storefront window!
Due to increased demand, we are charging a small fee to simply cover our labor and material costs to produce these stickers.
Each sticker is 2.5 x 3".
1 color screenprint on vinyl sticker paper
10 stickers (mixed ink / vinyl color) per pack

Proceeds from the sale of these stickers donated to UN Refugee Agency.

Download your own full page 8.5 x 11" PDF here.
Download your own 8.5 x 11" page of small designs PDF here.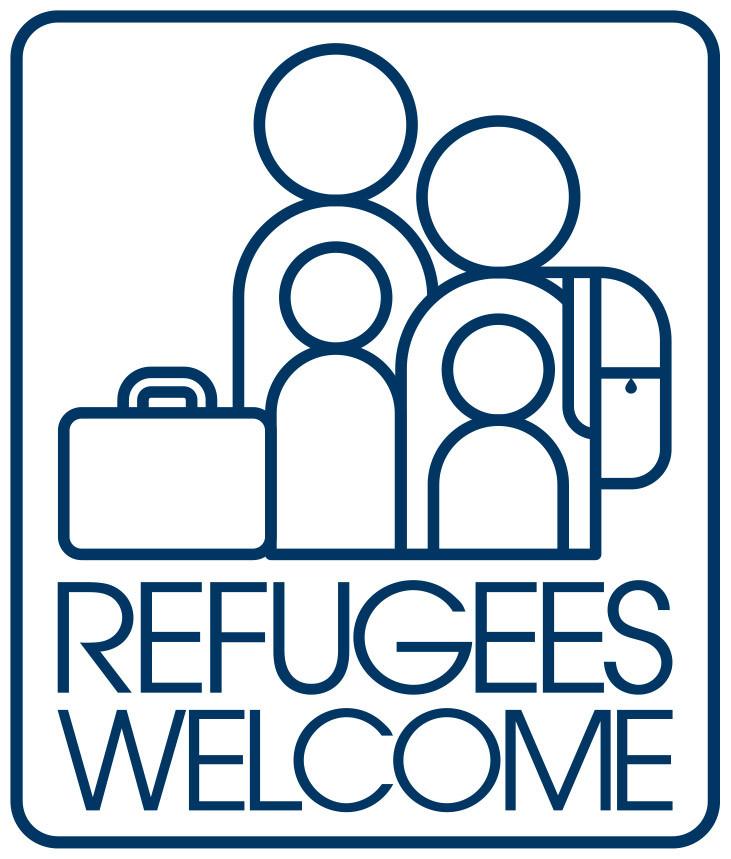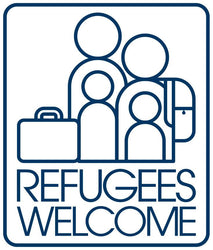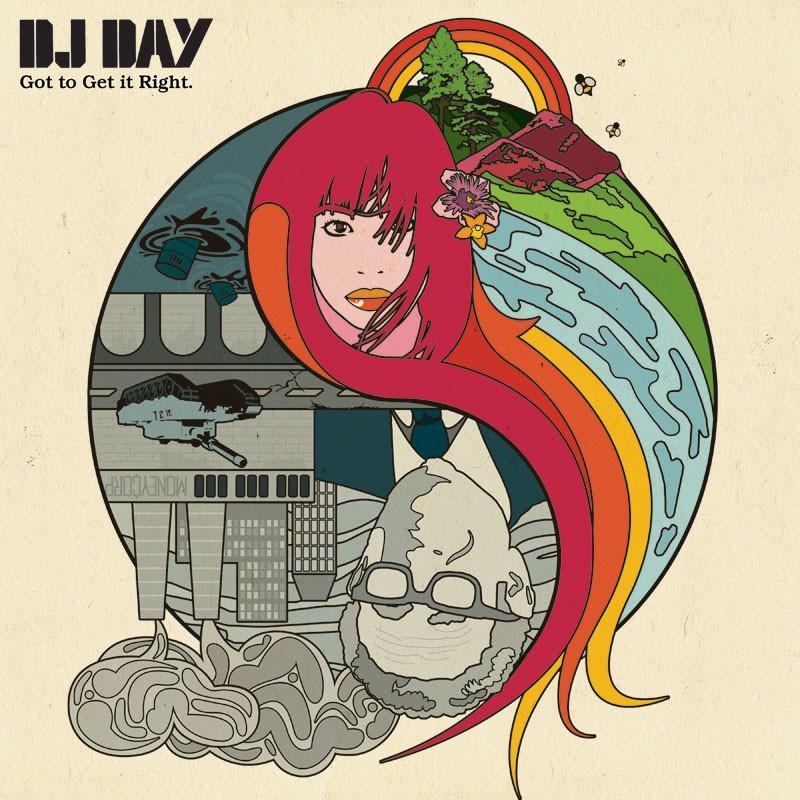 DJ Day "Got to Get It Right" vinyl EP
Vinyl packaging artwork designed by Mike Davis for our friend from Southern California, DJ Day. Day put together a four-song EP of instrumental hip hop inspired by the struggle of maintaining hope in these tumultuous times. Mike created this contemporary Illustrator vector yin-yang based on an original photo shoot and found images.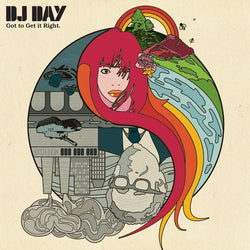 Dark Clouds Banner
When Minnesota United football club played their debut Major League Soccer home game in March 2017, United's support squad, Dark Clouds, wanted to show off a gigantic banner. For this banner, also known as a tifo, Dark Clouds hired Burlesque to create a fresh design that celebrated the team's history as well as some Minnesota state pride.

Using Mike Davis' design, the Dark Clouds crew teamed up to hand-paint the banner at a staggering 60 feet tall. Included in the design is an illustration of Alan Willey, a beloved footballer who spent most of his career playing for the Minnesota Kicks and the Minnesota Strikers in the 1970s and '80s.

Shown here are Mike's final design as well as a shot of the tifo in action!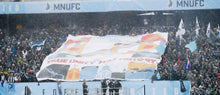 Seu Jorge & Almaz: North American tour
Seu Jorge first came onto our musical radar with his appearance in Wes Anderson's film The Life Aquatic with Steve Zissou. He lit up the screen with his his acoustic guitar covers of classic David Bowie tunes like "Life on Mars" and "Rebel Rebel." Jorge's latest project, Seu Jorge & Almaz, is a far-out rock group which explores the fuzz and grooves of 1960s and '70s Brazilian psych, rock, and tropicalia.

Signed to Now-Again Records (a subsidiary of Stones Throw) The group just wrapped up a tour of the U.S. and Canada and took this Burlesque-designed poster on the road with them. We actually printed up a brand new exclusive Burlesque-only version on Relic Gold paper (the tour version had yellow ink printed on black paper), making this one unique and exclusive to our online store! Designed by Mike Davis.

In November 2015, this poster was featured in a steamy scene of the hit TV series "Empire" - check the photos!

This poster also made an appearance in Marvel Studio's 2018 "Ant Man And The Wasp!"

19 x 25"
3 color screenprint on French Parchtone paper
Signed and numbered edition of 100
Screenprinted by Ben LaFond
Regular price $20.00 Sale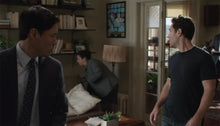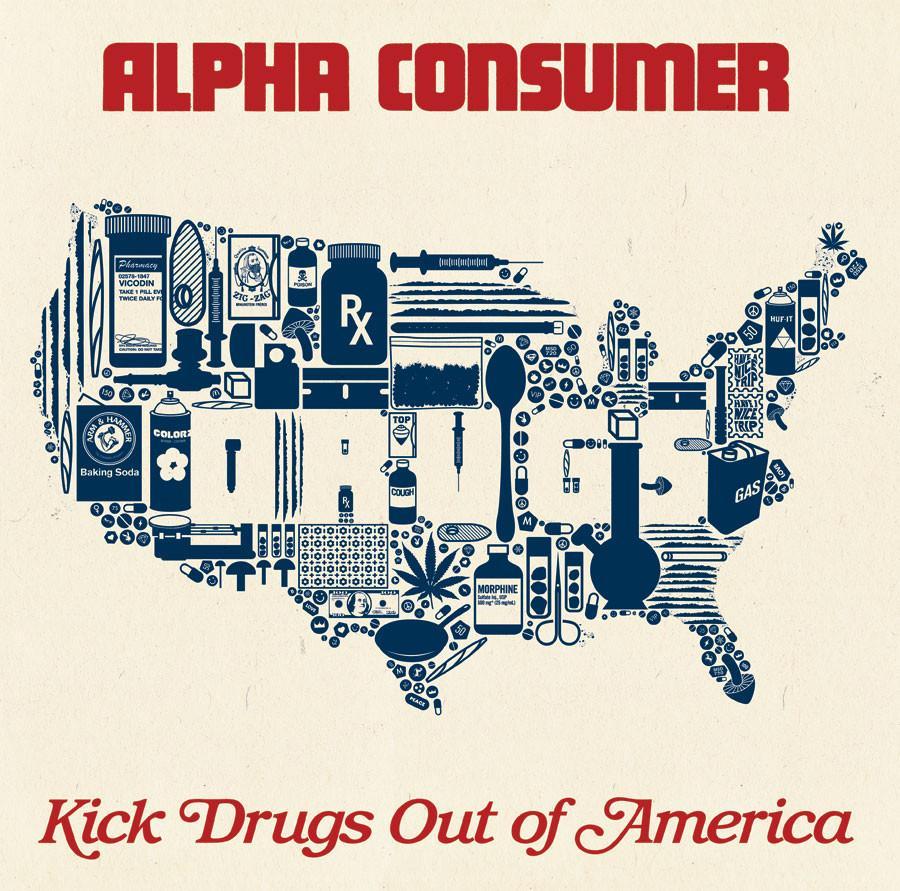 Alpha Consumer
2009 Vinyl and CD artwork for Minneapolis-based rockers Alpha Consumer. Featuring members of Cloak Ox, Gayngs, and Andrew Bird's backing band, Alpha Consumer has a really cool sound which gets the Burlesque seal of approval.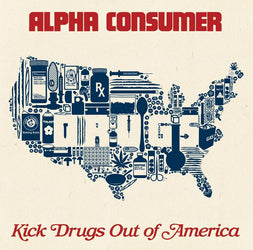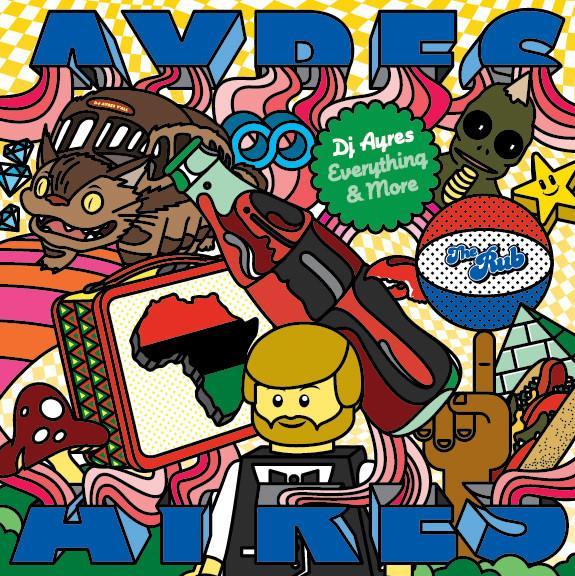 DJ Ayres "Everything & More" CD
DJ Ayres "Everything & More" mix CD artwork. Ayres asked for the visuals to look as off-the-wall and varied as the songs he selected for the mix.
Designed by Mike Davis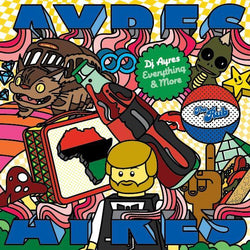 BRLSQ Record Case
Let's face it - you got a little trigger happy over the weekend for Record Store Day and brought home way too many records. Now you're getting weird looks from your significant other / spouse / roommate / offspring. Now it's up to YOU to make things look attractive ... but we are here to help!

Might we recommend our made-from-scratch record case? It features wooden dowels hand-cut by Wes and Larry Winship, not one but two super hot geometric vector designs by Mike Davis, screenprinted by Peter Bekke onto canvas which was cut and sewn by Jodi Milbert. If that's not a team effort, then we don't know what is.

After some very basic assembly (tightening 8 screws), these cases will be ready to house 50-75 of your favorite 12" vinyl records. Choose from either of our two colorways - magental + brown or yellow + green.