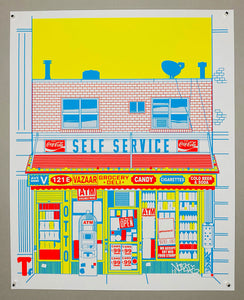 Vizie Vazaar print
We're excited to drop this brand new print and matching long sleeve shirt from East Coast wizard of spraypaint and vector art, 
Vizie
!
This three color art print, bursting with ultra bright fluorescent inks, is a love letter to the indispensible New York corner store. From milk and produce to aspirin, beer, magazines, chips, bacon egg & cheese sandwiches, and loose cigarettes, The Vizie Vazaar has got it all.
He's included all the details like the classic awning, tagged and blown out payphone, Coca-Cola privilege sign, and that timeless bodega yellow.

This is a PRE-ORDER. Printing is complete and we're shipping these out to Vizie to be signed and numbered. We'll begin shipping them to you in January, 2021.

16 x 20"
3 color screenprint (w/ 2 fluorescent inks) on 100% acid-free, archival Cougar white paper
signed + numbered edition of 100 prints
screenprinted by Ben LaFond

BONUS: Save $10 when you purchase the print and shirt together!
Regular price $40.00 Sale