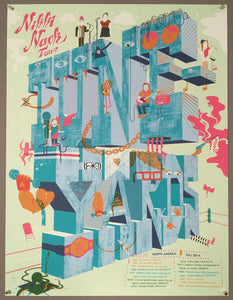 tUnE-yArDs: Nikki Nack Tour Spearmint variant
Limited edition variant version of our Fall 2014 tour poster we designed and screenprinted for tUnE-yArDs.

While we're printing concert posters and art prints, we often get the urge to mix things up and try something different. From time to time, our print crew will throw some different colored paper or ink in the mix and create an entire new edition of prints.
19 x 25"
4 color screenprint on French Poptone Spearmint paper
signed + numbered edition
Designed by Mike Davis and Wes Winship
Regular price $30.00 Sale