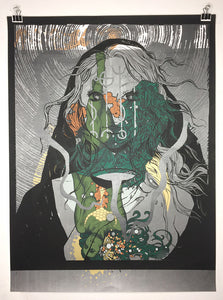 Test Print: Richey Beckett x Becky Cloonan
Part of the screenprinting process involves running a few test prints to make sure everything is good to go before committing to the final signed and numbered edition. In order to make sure the artwork lines up evenly with the previously printed layers, the ink color is mixed properly, and the squeegee is pushing the ink through the screen smoothly, we use what are known as test prints. This one-of-a-kind print combines mixed and matched layers from a range of artists and projects, hand-selected for our online store.

This print features layers from Richey Beckett, Becky Cloonan, and others.

Screenprinted by Ben LaFond and Sarah Schatz 
Regular price $85.00 Sale