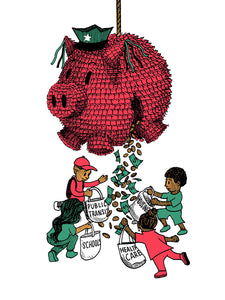 Pégalo, Rómpalo, Tómalo (Hit It, Break It, Take It)
In this timely and eye-catching illustration from 
@brownbartbaby
, the artist explains exactly what we mean when we say DEFUND THE POLICE. In their own words...
"What can 'defunding' the police look like? It can include draining bloated police budgets and redirecting funding priorities to services which lead to more equitable outcomes and greater community safety than policing ever has. State sanctioned killing, brutalization, and the daily humiliation of Black and Brown bodies in service of maintaining a racial hierarchy is not something you can reform incrementally - it is something that must be rooted out.
Policing, in its current iteration, is a relatively new phenomenon and it is time to make it a relic of the past. The drawing was a doodle that came to me as I watched the Minneapolis uprising, and thought of the traditional piñata song - Dale dale dale, Ya tu tiempo se acabó (Go ahead - your time is up!)."
* * * * * * * *

100% of profits from the sale of this art print will be donated to Juxtaposition Arts, a North Minneapolis youth-run artist organization celebrating 25 years of providing arts opportunities and education to the North Minneapolis community. We know a lot of great artists who have learned and taught here and we're excited to support them through the sale of this print.

* * * * * * * *

18 x 24"
4 color screenprint on Domtar Cougar white paper
signed + numbered edition of 200 prints

Screenprinted by Ben LaFond
Regular price $30.00 Sale