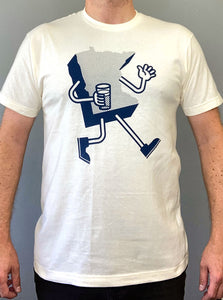 Mr. Minnesota Shirt
He's got a cold drink in his hand, he's struttin' down the street... it's safe to say Mr. Minnesota's got it goin' on.

Show your state pride with this design originally created in 2015. We revisited and refreshed the artwork and are offering this super hot 2.0 version for you and yours.
1 color screen print on
Tultex 202
100% cotton Natural color tees.
Designed by Mike Davis
Printed by Adam Hile
Regular price $25.00 Sale