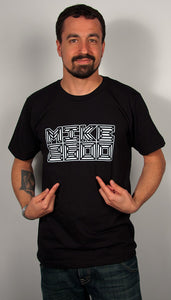 Mike 2600 shirt
We dug around in our studio and unearthed a stash of t-shirts that we printed up when our resident record selector / vector inspector was competing in the Red Bull Thre3style DJ battle here in Minneapolis in 2013. Maybe it was the army of fans wearing these shirts that helped him win and advance to the regional finals? Either way, grab one of these Mike-designed shirts to support our favorite disc jockey!
One color print on black American Apparel tees
Screenprinted by Sarah Schatz
BONUS: You can listen to Mike's winning DJ set right here!
Regular price $15.00 Sale