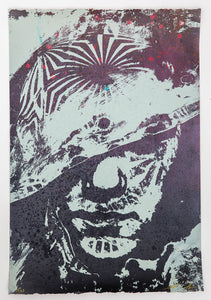 Jacob Bannon x Thomas Hooper: JBXTH II Handpainted #13
Print #13 of 25

This is from the first series of JBXTH prints, a creative collaboration between artists Jacob Bannon and Thomas Hooper. These prints were created during our Full Bleed Exhibition at Roadburn Festival in April 2019.

The two artists made a series of custom hand-painted backgrounds which were then screenprinted by our own Ben LaFond and guest printer Gemma Berenguer. Each print is completely one-of-a-kind.


15 x 22"
signed + numbered edition of 25 prints

Regular price $75.00 Sale