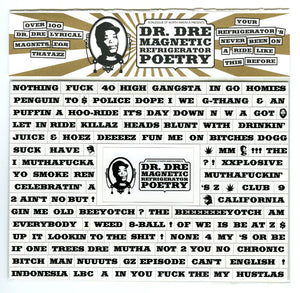 Dr. Dre Magnetic Refrigerator Poetry
Word to the muthafuckin' streets. And word to these hype ass lyrics on your very own refrigerator. Enjoy endless word combinations and endless fun with this modern twist on the classic refrigerator poetry sets. No kitchen is complete without one!

Designed by Mike Davis and made in Minnesota.

PARENTAL ADVISORY: EXPLICIT LYRICS!!!