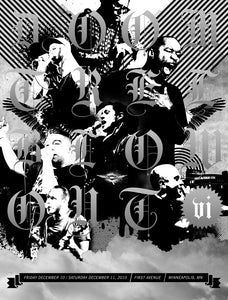 Doomtree Blowout 6 print
After weeks and weeks bringing their high-powered rap variety show across all points of North America, Minneapolis' beloved Doomtree crew brought it all back home to First Avenue for their sixth annual Blowout. All members of the crew (P.O.S, Dessa, Sims, Cecil Otter, Mike Mictlan, Paper Tiger, and Lazerbeak) took to the stage with a whole assortment of backup musicians and special guests.

This Blowout weekend happened to coincide with Minneapolis' great SNOWPOCALYPSE and due to many fans being unable to traverse the snow for Friday and Saturday's shows, a THIRD night was added on Sunday!

19 x 25"
Designed by Mike Davis using live Doomtree photos shot by Ben LaFond.
Regular price $20.00 Sale