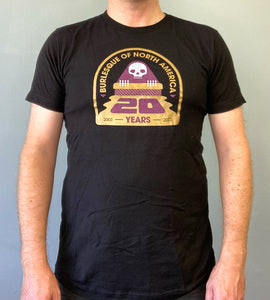 Burlesque 20 Year Anniversary shirt
This year, we are celebrating our 20th anniversary! 
Hard to believe we've been going at it for two decades, but the calendar don't lie.
While the name Burlesque was being thrown around during the late '90s Life Sucks Die era, and can even be seen written on some of the house-designed ads inside the magazine's final issues, we really got things fired up with a full-time design and print operation, logo, and website in the Fall of 2003. Since then, we've had a blast designing, printing, organizing events, and meeting other poster lovers and creative people from all over the planet.


Celebrate 20 years of the presses running with a new shirt designed by Mike Davis and screen printed by Adam Hile.
3 color print on 100% cotton Tultex 202 tees
Regular price $25.00 Sale