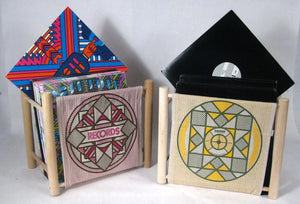 BRLSQ Record Case
Let's face it - you got a little trigger happy over the weekend for Record Store Day and brought home way too many records. Now you're getting weird looks from your significant other / spouse / roommate / offspring. Now it's up to YOU to make things look attractive ... but we are here to help!

Might we recommend our made-from-scratch record case? It features wooden dowels hand-cut by Wes and Larry Winship, not one but two super hot geometric vector designs by Mike Davis, screenprinted by Peter Bekke onto canvas which was cut and sewn by Jodi Milbert. If that's not a team effort, then we don't know what is.

After some very basic assembly (tightening 8 screws), these cases will be ready to house 50-75 of your favorite 12" vinyl records. Choose from either of our two colorways - magental + brown or yellow + green.
Regular price $30.00 Sale