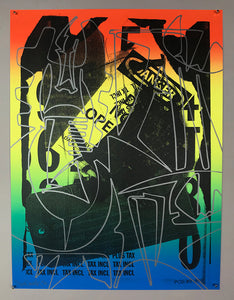 Alex Smith: Unpacking Chaos
On the heels of his smash show UNPACKING CHAOS at CO Exhibitions, Minneapolis artist Alex Smith has created a brand new art print of the same name.


The show is all about Alex's personal journey over the past several years of his life as well as other journeys throughout forgotten buildings and spaces in the Twin Cities. A wild and cohesive visual statement filled with mixed media paintings and found objects. Unpacking Chaos is on display at CO Exhibitions through November 22nd, 2019.
18 x 24"
3 layer screenprint featuring a 3 color split fountain on 100% acid-free, archival white paper
signed + numbered edition of 50 prints
Screenprinted by Ben LaFond
Regular price $30.00 Sale