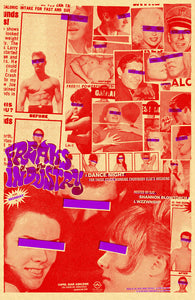 Freaks Of The Industry
A lot of our friends work hard during the weekend so the rest of us can party. They're serving drinks, setting up sound equipment, checking IDs, cooking late night meals, and kicking drunkards out of bars. So when do THEY get to go out and enjoy themselves? Our own Wes Winship and good friend of BRLSQ Shannon Blowtorch have started up a weekly party catering to everyone stuck working everyone else's weekend!

Monday nights at Bar Abilene in Uptown Minneapolis are now the home to FREAKS OF THE INDUSTRY, a full night of speaker-thumping hip hop, '80s dance gems, funk, disco, electro, and more.

And what would a Burlesque music event be without a great poster? Wes designed and screenprinted these HUGE and wild two color prints. Super freaky!
Regular price $20.00 Sale