Sign Related: Artist Talk & Closing Reception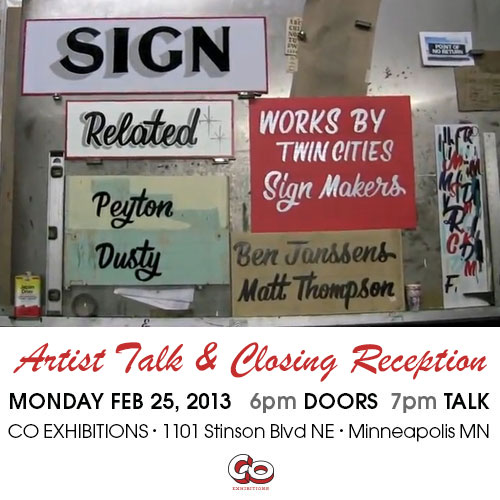 Since we opened Sign Related in January, we've had a large number of gallery visitors coming by to check out the show and also ask us a lot of questions regarding the making of all the fantastic work. We decided the best solution would be to let the artists speak for themselves!

We are having a special artist talk with Sign Related's Peyton Scott Russell, Ben Janssens, Dan "Dusty" Madsen, and Matt Thompson. This will be a chance to hear the artists discuss their craft, how they work with a wide range of materials and explore the connection between the work they make by day and the art they create on their own time. You'll also be able to ask all sorts of burning questions like "How do you make all the different colors of neon?" and "What sort of tricks makes your hand lettering so clean and perfect?" The whole show will also be on display.

Artist talk and reception:

Monday February 28th
Doors at 6pm
Talk begins at 7pm sharp
Free admission / all ages welcome!

RSVP and invite your friends on Facebook!