For the 9th year straight, we're putting together a showcase of some of our favorite DJs to play tunes for you and yours down in Austin during SXSW. We like to call the party DO IT TO IT. In the past, we've witnessed sets from Dillon Francis, The Rub, Get Cryphy, and even Shepard Fairey. With a little help from our dear friend Bird Peterson, we've assembled two monster lineups to make this year's get-together our biggest yet!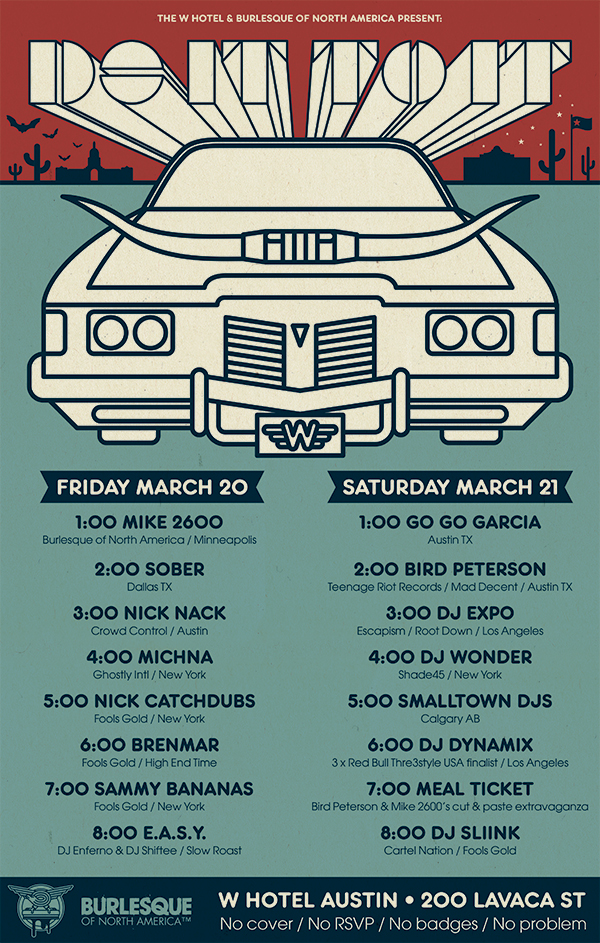 It all goes down Friday March 20th and Saturday March 21st at the W Hotel in downtown Austin from 1 - 9pm each day. No wristbands or RSVPs necessary. Just show up and have a good time.
FRIDAY MARCH 20
1:00 Mike 2600
2:00 DJ Sober
3:00 Nick Nack
4:00 Michna
5:00 Nick Catchdubs
6:00 Brenmar
7:00 Sammy Bananas
8:00 E.A.S.Y.
SATURDAY MARCH 21
1:00 Go Go Garcia
2:00 Bird Peterson
3:00 DJ Expo
4:00 DJ Wonder
5:00 Smalltown DJs
6:00 DJ Dynamix
7:00 Mike 2600 & Bird Peterson are MEAL TICKET
8:00 DJ Sliink
Invite your friends on Facebook!!!