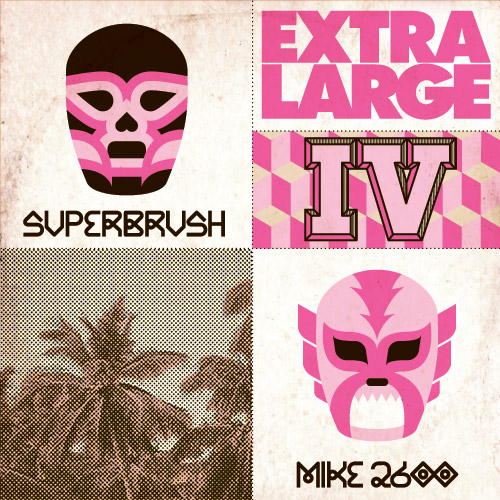 ♪ ♫ ♬ Download the new EXTRA LARGE mix RIGHT HERE! ♬ ♫ ♪
Check out Mike 2600 and Superbrush's brand new mix of Cumbia, dancehall, reggae, and Moombahton jams, then come party in person Friday July 8th at First Avenue's Record Room!
SUPERBRUSH'S 1/2 (QUE PACHANGA MEXCIA)
Roll Out Riddim
Daelduro "Bon Bon Assessino (Oro 11 remix)"
Uproot Andy "El Pescador"
Eric Bobo "MuchoCalor (Feat. Sonidero Nacional)"
El Cherman "Witness Cumbia Dub (Los Reyes De La Milagra Vs. Roots Manuva Refix)"
El Mayonesa "Pankrot Does Not Have A Price (Toe Tag Vs. Gaga Refix)"
Sabo And Cassady "Curara"
GRC va. Luz Mob "Tabacco Y Ron"
Palov And Mishkin "Ambiente Tropical"
Carribean Girl Riddim
Red Astaire "Two For The Time"
Celso Pina "Cumbia Sobre El Rio feat. Control Machete"
DJ Panik "Like This Like That"
DJ Avatar "Cumbia Internacional"
Rafa Caivano "Run For Cumbia"
MIKE 2600′S 1/2 (VIERNES GIGANTE)
Shaggy ft. Rayvon "Big Up" (Could You Be Loved riddim)
Sizzla "Cash Flow" (Rail Up riddim)
Beenie Man ft. Lisa Hyper "Nuh Stress Mi Out" (Rail Up riddim)
Ding Dong "Badman Forward Badman Pull Up"
Joyce Muniz & Shanti Roots "Cumbia Nightlife (Dave Nada Moombahton edit)"
Nader vs Dice "Ugly Moombahton"
Hotta Clapz riddim + Benni Benassi "Satisfaction" acapella
Alvaro vs Lil Jon "Fucking Ghetto"
Toddla T "Take It Back (Dillon Francis remix)"
Jay Vegas "Fix Up (Sabo Moombahton edit)"
Last Word "Did It On Em"
Smalltown DJs "Autograph (Slooooowed down)"
South Rakkas Crew "Renegade Rasta"
Willy Joy "Battle For LA"
Don't miss the interview with Superbrush over at the EXTRA LARGE blog!