CO EXHIBITIONS' FIRST ANNUAL WORLD (craft) FAIR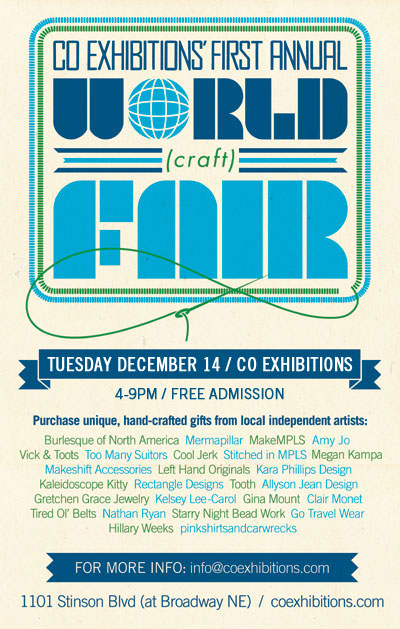 UPDATE!
Due to this past Saturday's SNOWPOCALYPSE, we have rescheduled the fair for today, Tuesday December 14th, 4-9pm!
We are hosting our very own craft fair. We've invited a couple dozen of our favorite local artists and crafters to get together and sell all of their great homemade goods. Looking for some holiday gifts for your art-loving friends and family? There will be everything from screenprinted posters, t-shirts, jewelry, clothing, kids stuff, and beef jerky all available. In addition, we'll have DJs, food, raffles, and all sorts of fun stuff going on all day.
That's Tuesday December 14
4-9pm
CO Exhibitions
1101 Stinson Blvd (corner of Broadway & Stinson in NE Minneapolis)
Admission is FREE and all ages are welcome
RSVP and more info on Facebook