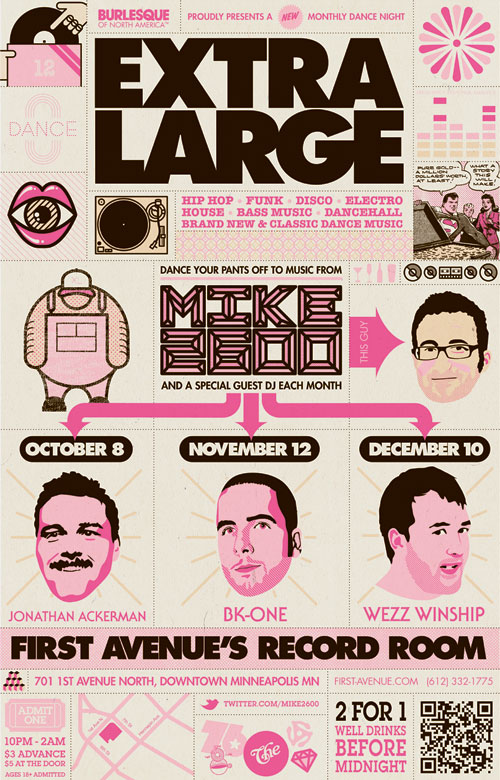 Twin Cities party people, tonight is the second episode of my new dance night experience, EXTRA LARGE.
EXTRA LARGE features extended DJ sets from myself and one guest DJ and it goes down the second Friday of each month in the Record Room of historic First Avenue nightclub in beautiful downtown Minneapolis MN. Last month my guest was Jonathan Ackerman and we broke the crowd off with dancehall, classic hip hop, disco house, funk, boogie, and electro stompers. Tonight my guest is BK-One. Some of you might know BK from his decade-long stint DJing for rapper Brother Ali, or maybe you picked up his "Radio do Canibal" album, featuring BK's Brazilian-inspired hip hop beats and raps from Scarface, Freeway, Raekwon, Slug, Ali, and many more. His music and DJ sets are fueled by funk in all forms and he knows how to please a crowd with all flavors of music.
Now that Mr. BK-One has stepped down as Brother Ali's tour DJ, it's really not every day we get the chance to hear him spin music. Tonight we'll pull out all the stops! Tons of big tunes on a big sound system. Plenty of big fun to be had, so bring your friends!
You can RSVP and find out more on the Facebook event page.
WAIT! THERE'S MORE! I asked BK to share a few songs from his music collection to get everyone in the mood to dance tonight. I actually asked him for five songs, but he gave me SEVEN! Here they are along with commentary from the man himself. Enjoy and hope to see you and your friends on the dancefloor tonight!
1) Darwin Jones Untitled An unreleased disco/boogie bomb from Darwin Jones and his Tulsa buddies. After doing a bunch of session work out in California, Jones was given free reign to noodle around in Sly Stone's home studio. This is the result.
2) Débruit 149 Dalston Airline Debruit's squiggly keys and choppy vocals are easily my favorite discovery of 2010. The Paris-based producer makes amazingly catchy, but bizarre tracks that sound familiar and exotic at the same time.
3) Luiz Carlos Vinhas Yê-Melê The pianist from Bossa Tres goes for dolo. Someone should use those opening vocals. Come to think of it, there's a King Crimson sample that might sound good with them.
4) The Shangri-Las Bull Dog Since I stopped DJing for Ali, I've been working on making my DJ sets more diverse, trying to reflect more and more of the sounds that you might hear playing around my house. I've had an especially good time throwing in oldies (doo-wop, girl groups, original rock & roll, etc...) alongside all the hip hop, funk, and tropical records that I've been playing for years. The Shangri-Las are one of my favorite girl groups. Those hand claps, along with the slightly distorted vocal harmonies and a dope harmonica solo, make this a no-brainer.
5) Ned Doheny Get It Up For Love Can't go wrong with some blue-eyed soul in the mix. This album has an absurdly cheesy cover and homie's name is Ned, but this is undeniably smooth. Co-written by Hammish Stuart (Average White Band).
6) The White Shadow Funk Strut A four minute Troutman-on-meth funk freakout that was inspired by Batman/Jack Nicholson? Yes please!!! The White Shadow is an old school DJ from Norway that was down with BDP and named himself after the late-70's CBS show about a Bulls player turned South Central teacher. Do I really need to say more?
7) Los Silvertons La Moto Earlier this year, I had two back-to-back DJ nights in Arizona. The shows couldn't have been more different from each other (one was a club night full of drunk downtown kids in Tucson, the other was at a dusty saloon full of black cowboys and cross-dressing art kids out in the middle of the desert), but the two crowds shared an attitude that led to some of the most fun I've ever had DJing. They were excited to dance, and open to hearing anything I had for them. By the end of each night, I was pulling stuff like this Peruvian garage rock record out just to see what they would do...and they never disappointed. Wouldn't have ever guessed it, but Arizona set the new standard by which my DJ gigs are judged. Excited to see Minneapolis rise to the challenge this Friday!