Red Bull Thre3style comes to Minneapolis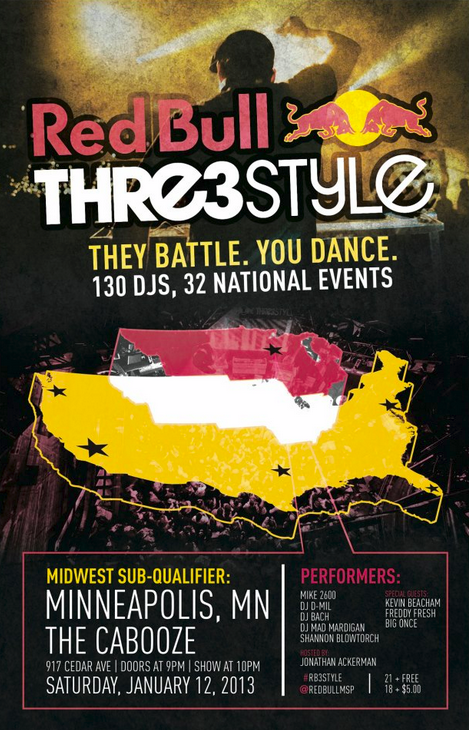 Over the last few years, Red Bull Thre3style has emerged as the numero uno DJ competition across the planet. Whereas most DJ battles have focused primarily on technical abilities and tricks, Thre3style is a search for the best party rock DJ.
Each competitor has 15 minutes to perform an action-packed set of music using at least three different genres. The only goal is to get the crowd and judges on their side. The competition has put DJs in a unique position where they have worked their asses off to put together fast-paced, incredibly intricate sets of music, organizing together layers and bits from dozens of songs in that short amount of time.
Now in its fourth year, Red Bull Thre3style is finally coming to Minneapolis this Saturday to find our city's best DJ. I was invited to compete for a chance to advance to the Midwest regional battle and win a ton of cash and prizes.
In 2012, I won the Midwest regional (see the snippet from my winning set above) and advanced to compete in the US finals. I'm returning in 2013 for a chance to represent Minneapolis once again. We need all of our Twin Cities music lovers to show up and cheer me on as I face off against local DJs Mad Mardigan, D-Mil, Bach, and our good friend Shannon Blowtorch.
Saturday January 12
9pm - 2am (show up EARLY to make sure you get in!)
The Cabooze (917 Cedar Ave, Minneapolis)
FREE for 21up, $5 for 18up
More info on Facebook
BONUS... Here are some of my favorite Red Bull Thre3style sets:
Four Color Zack's winning set at the 2012 world finals...
DJ Hedspin's 2011 winning set from the West Canadian regionals before he went on to become the Canadian champ and then the world champ...
Big Once's 2011 winning set from the Chicago regionals before he went on to become the US Champion: