Star Eyes / Jubilee Friday night!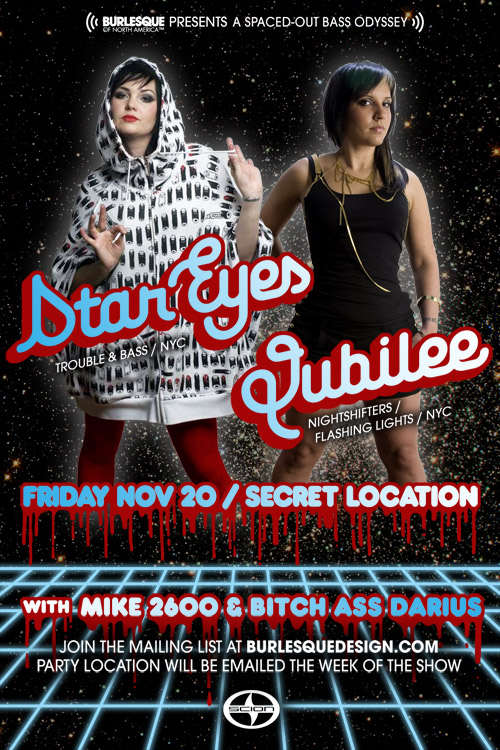 Two of our favorite NYC DJs on the move are coming to town this Friday and we're throwing a party for them to drop bass all over your face!
Star Eyes blew the roof off of First Avenue at last year's Do it To it party. A member of the red hot Trouble & Bass crew (along with Drop The Lime, AC Slater, and others), she's been spooking up dancefloors with her own unique brand of Haunted House music. Check out her song and video Disappear.
Jubilee will be making her Minneapolis debut this Friday. One year ago, she started the monthly Flashing Lights party with Friends-Of-Burlesque DJ Ayres and Nick Catchdubs, where they have converted unassuming dim sum restaurants into makeshift raves with guest DJ spots from Klever, A-Trak, Toadally Krossed Out, and Nadastrom. We love she and Udachi (Trouble & Bass)'s brand new song PAYPUR... alot.
Where is the party? Sign up for the BRLSQ newsletter to get all of the details of the secret location and all that. We sent out a mailer on Tuesday but will send out another one or two before the show goes down!
Expect to sweat it out on the dancefloor and hear plenty of heavy bass and big electro beats on what many consider to be the best sound system in town!