Farewell Triple Double... for now.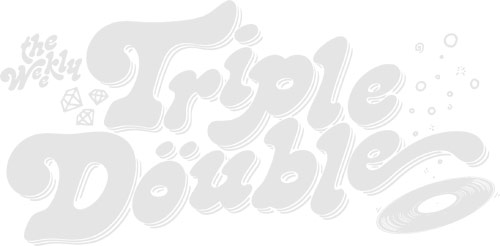 Five years ago, we joined forces with the folks at Triple Rock Social Club to add DJs, dancing, and videos to their 2-for-1 Tuesday nights. In February 2008, we launched Triple Double, naming the night after the Triple Rock, the three DJs who would spin each week, and the 2-for-1 drinks. The night has run nearly every Tuesday since, with the exception of Christmas, St. Patrick's Day, and a few other random holidays or special events. We've watched thousands, of local music lovers dance to over 1000 hours of hip hop, funk, disco, R&B, dancehall, Moombahton, '80s, '90s, new wave, no wave, rock, Miami Bass, and more, making Tuesday nights look like Friday nights. We've featured guest DJ sets and performances from P.O.S, Jacob Bannon from Converge, The Millionth Word, Big Quarters, Mux Mool, Arctic Universe, Willy Joy, Trama, and too many others to list here. We've seen countless local DJ favorites spin some of their best and most musically adventurous sets. We've screened weird horror movies, foreign cartoons, classic rap videos, held Tetris competitions, and watched Plain Ole Bill come within a few jiggawatts of beating the world record high score on the Nintendo "Back to the Future" game. We've given away hundreds of dollars worth of free pizza. We even got name checked in P.O.S' "Optimist" (I wrote the verse on a Triple Double Tuesday). It's been a lot of fun, but now it's time to say goodbye.
Over the last several months, things have been taking an unsavory turn. We've seen fights break out while upbeat disco music is playing. We've seen dudes act out of line with girls on the dancefloor. We've seen a huge increase of the unpleasant side of running a popular dance night with cheap drinks. All of this culminated in one giant brawl outside the venue last Tuesday. Out of respect for their neighborhood and concern for their patrons, Triple Rock made the very difficult decision to shut down Triple Double Tuesdays for the time being. Although it's hard to say goodbye to the night we've worked so hard to build and maintain, we agree with their decision. We feel if the actions of those responsible were to continue, it would jeopardize the safety of Triple Rock's staff as well as the future of the venue we've been working with since the very beginning.
Both Burlesque and Triple Rock are going to let things cool down for a while. We're keeping our fingers crossed that there will be another way to work together in a similar fashion, but for now we'll keep things on ice. We'd like to thank everyone who's supported us and the night over the years - from the gifted DJs to the hard working staff at Triple Rock, to all of the party people who have called in late for work on Wednesday morning cause they had too much Tuesday night with us.
Peace in the Middle East and on the West Bank,
Mike 2600, Wzz Wnshp, & the Triple Double Posse.