Free Arcade Fire Reflektor test print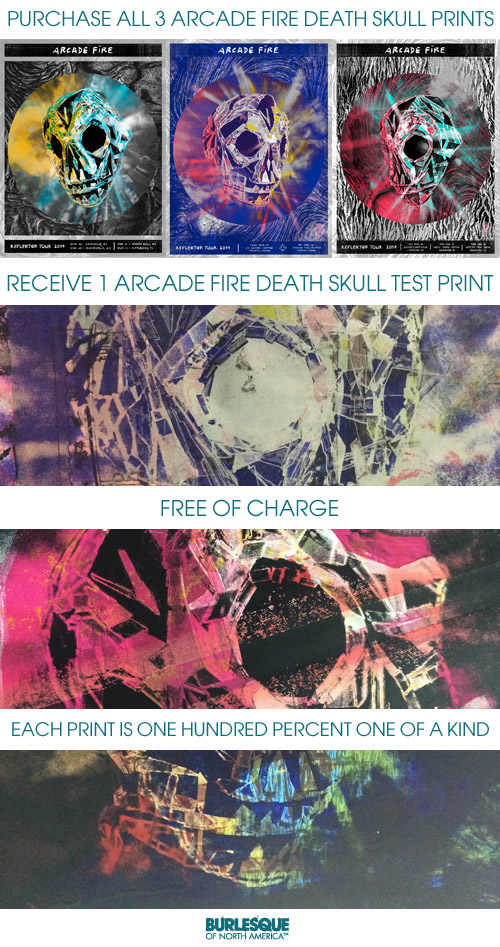 That's right - purchase all three of our Arcade Fire Reflektor tour prints featuring the Death skull mask and we will include a one-of-a-kind Death skull mask test print free of charge. It's that simple! We created a large stack of crazy looking test prints featuring the skull layered up against rainbow-colored gradients, metallic inks, typographic messes, black blobs, and much more. This is some real super duty tough work.
WAIT. I ALREADY BOUGHT THE FIRST TWO PRINTS. WILL I STILL GET A FREE TEST PRINT IF I ORDER THE THIRD POSTER?
Yes! Just be sure to include the order number(s) from the previous poster order(s) when you checkout and you'll be set.
WAIT! I ALREADY BOUGHT ALL THREE REFLEKTOR PRINTS! CAN I STILL GET A FREE TEST PRINT?
Yes! You supported us, so we're happy to help you out! Just send an email to orders@burlesquedesign.com with your order number(s) and shipping address. We will get you death skulled up!
You can find all three Arcade Fire Reflektor prints in our online store.