Autopic: Kick off + Party at CO Exhibitions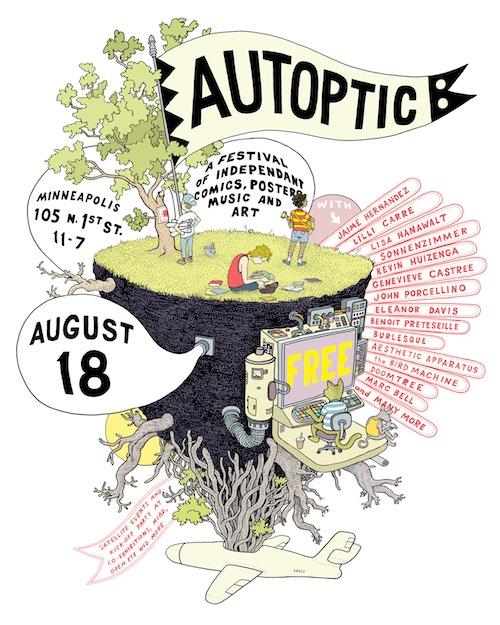 We are just days away from celebrating Autoptic! This is a festival celebrating the graphic arts from Minneapolis, the Midwest, and beyond! The main event goes down Sunday August 18th from 11am-7pm at Aria in downtown Minneapolis. Dozens of screenprinters, comic artists, graphic novelists, zine-makers, and more will be showing off their goods for your perusing and purchasing pleasures. Burlesque will be there will all sorts of goodies available. Admission is FREE so you better come on through!
There are two additional events connected to Autoptic which will be going down at CO Exhibitions this week:
1) The Jugglers: Tuesday Aug 13th, 7 - midnight.
From Sculpture to Animation and Songwriting to Design: An exhibition of 10 cartoonists from two continents. with music by Zak Sally's Pretty Ladies. More information can be found here.
2) Autoptic Kick-off party: Sat Aug 17th, 8pm - midnight.
Featuring live music and performances from:
The Knotwells (live music)
Benoît Tranchand (live music)
Party Food (performance)
Joseph Nixon+Luke Holden (live sculpture and a drum solo??)
Ellen Redshaw (performance/projections/readings/music)