Flatstock 41 at Bumbershoot 2013!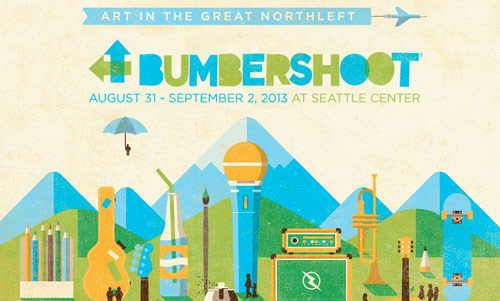 Today, we kick off the 41st Flatstock! This massive convention of screenprinted poster artists and designers takes place at the Bumbershoot Festival in the lovely Seattle Center.
That Emerald City is one of our favorites and we're super excited to be back here enjoying some cooler weather and outstanding food. But all that food and good weather can wait! For we'll be posted up at Flatstock, among a few dozen other talented postermakers, selling our finest screenprinted concert posters, art prints, t-shirts, sticker packs, and tons of other fun goodies. We'll have plenty of brand new and hard to find items - a little something for everyone.
WHEN?
Saturday, August 31: 11am-8pm
Sunday, September 1: 11am - 8pm
Monday, September 2: 11am - 8pm
WHERE?
We are located in the Armory building, the same location as last year. Have a look at this handy map if you're still puzzled.
OK COOL WHAT ELSE?
Ummmm how about a meet & greet with the one and only John Dyer Baizley?
DID YOU SAY A MEET AND GREET WITH JOHN BAIZLEY?
You're goddamned right! Baroness will be rockin' the festival on Monday, and earlier that day, Mr. Baizley will be stopping by our booth to shake your (yes, YOUR) hand, sign your poster, Baroness LP, CD, shirt, and anything else you think would look better with his signature on it. Stop by our Flatstock booth between 12 - 2pm to meet John Baizley!
HOW ABOUT A COUPLE OF PHOTOS FROM LAST YEAR'S BOOTH?
Okay!