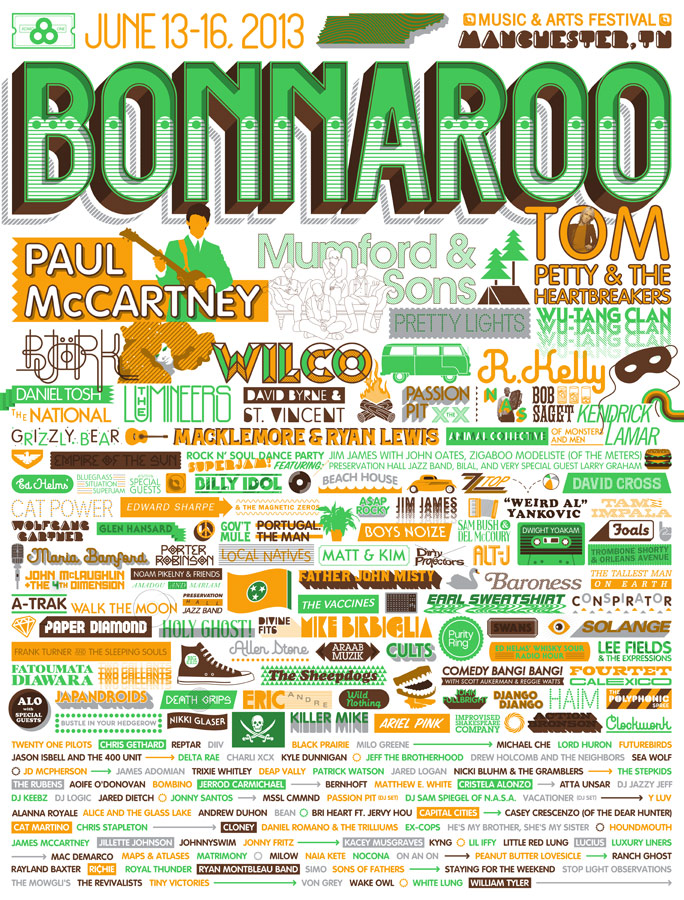 Click image for larger view
Did you make it out to Tennessee for another Bonnaroo this past weekend? The folks behind the monstrous festival put together another huge event with some incredible acts on the bill - Paul McCartney, Tom Petty and the Heartbreakers, Weird Al Yankovic, ZZ Top... holy moly. Wait! There's more! Tame Impala, Royal Thunder, Death Grips, Nas, David Cross, Maria Bamford, William Tyler, and of course Baroness!
We were excited to design and screenprint out 8th (eighth!) annual poster for Bonnaroo this year and are proud to share it with you right here and now. While the poster may have been difficult to track down on the festival grounds, it will be available for purchase in our online store at a random time during the day on Tuesday June 18th!
Designed by Mike Davis and screenprinted by Ben LaFond.
19 x 25"
4 color screenprint on acid-free, archival, Cougar white paper.
Signed and numbered edition of 100 prints
$20 + shipping