We don't talk about politics here at Burlesque all that often. That's not why you come here. But we all know there's a lot at stake in this upcoming presidential election and that's important to us. Those of us living in Minnesota more than likely know about two constitutional amendments which will also be showing up on our November ballots, and those amendments are important to us as well:
1: An amendment to recognize marriage as a union solely between a man and a woman.
2: An amendment requiring citizens to obtain a new voter ID card in order to vote in elections
We here at Burlesque plan to vote NO on both of these and urge you to do the same. We believe that it's nobody's business if two people in love want to be married and share the same rights as anybody else who gets married. We also believe it doesn't make sense to spend hundreds of thousands of taxpayer dollars to make it exceptionally difficult for so many people to vote.
The fine folks at Triple Rock Social Club, Modern Radio Records, and Cakein15 have teamed up to put on a two night musical extravaganza at Triple Rock to help spread the word about voting no on these two terrible amendments. It's not every day that you can find Dillinger Four, Har Mar Superstar, Minnesota Vikings punter Chris Kluwe, and Soul Asylum's Dave Pirner all sharing a stage in the same weekend, especially all for a worthy cause!
We've designed and screenprinted a poster for the event which doubles as a sign to be cut out and placed in your window to help you show your support. Want a copy? Come by CO Exhibitions any time between now and November 6th and grab one. We simply ask you make a $10 - $20 donation to MN United or Take Action Minnesota.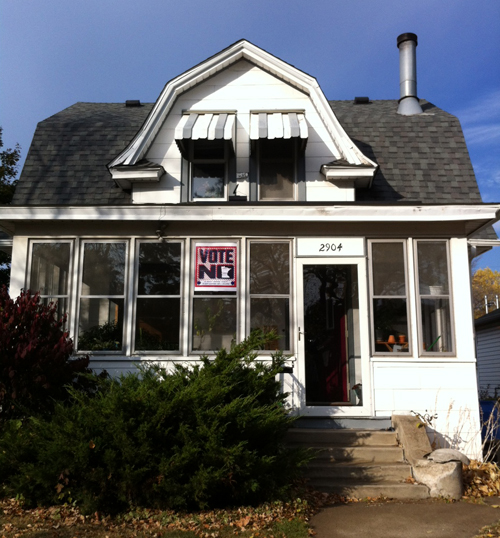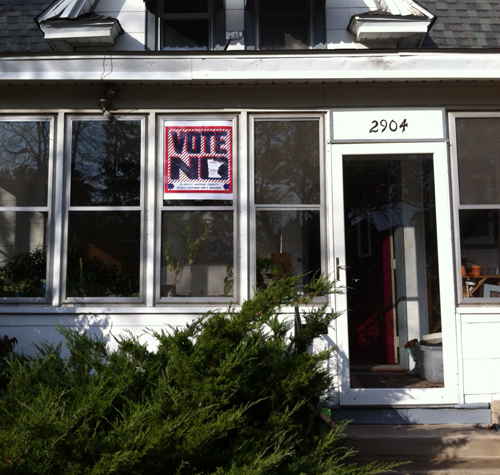 ---------------
Here's what Wes Winship had to say about working on this poster: "Last night, while printing these Vote No posters, I was struck by a thought. Printing and distributing these posters might be the most profoundly American activity I could be doing right now.
Being in America, I've had the opportunity to take a passion of mine and turn it into a small business. Taking the skills and tools I've picked up while running a small business, I was exercising my First Amendment rights to make a message I feel strongly about and take it directly to our own presses. My dad gave me a hand and the whole project felt great. This morning, I hung one in my own porch window on the way out the door."