Ice Rod's Chat Roulette Dorm Room Freestyle Rap Tour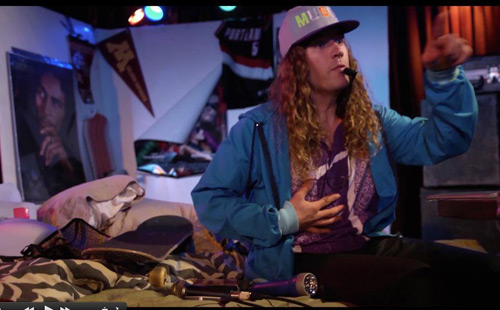 Our good friend ICE ROD A.K.A. artist Michael Gaughan has been blowing the roof off of the Turf Club in Saint Paul with his monthly rap performances disguised as casual dorm room Chat Roulette encounters. Michael dresses the Turf Club stage up like a college dorm room, complete with Bob Marley poster, penants, basketball, skateboard, dumbells, soda cans, and partying co-eds. He'll click through unsuspecting internet users and will start making up raps about them on the fly. Just watch the video...
So here's the deal... Ice Rod is taking this show ON THE ROAD! Do NOT miss your chance to experience the madness live and in person!
5/4 Turf Club, Saint Paul, MN
5/5 The Frequency, Madison, WI
5/6 Reggies, Chicago, IL
5/7 House Party, Carbondale, IL
5/8 Memphis, TN
5/9 Exit/In, Nashville, TN
5/12 Electric Maid, Washington, DC
5/13 PhilaMOCA, Philadelphia, PA
5/14 Shrine, Harlem, NY
5/15 Public Assembly, Brooklyn, NY
5/16 The Outer Space, Hamden, CT
5/19 UC Lounge, New York, NY
5/20 Garfield Artworks, Pittsburgh, PA
5/22 Birdy's, Indianapolis, IN
5/23 Bear's Place, Bloomington, IN
5/24 Milwaukee, WI
Stay tuned for details on an upcoming Michael Gaughan art show at our own CO Exhibitions!