CO-Lamity coming to CO Exhibitions this weekend!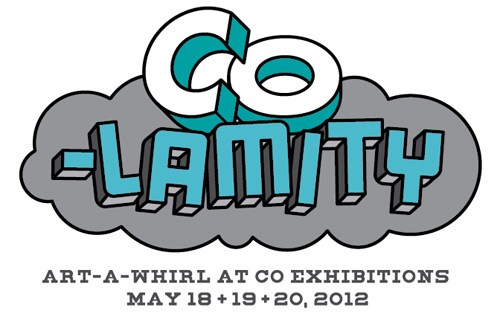 This weekend, we'll be celebrating Art-A-Whirl over here at CO Exhibitions. We've got a whole weekend filled with art, music, posters, food, and fun, so read on for all the details...
Friday May 18, 5-8pm
Saturday May 19, 12-10pm
Sunday May 20, 12-5pm
CO Exhibitions
1101 Stinson Blvd at Broadway in NE Minneapolis
Free / all ages
BRLSQ SCRATCH + DENT SUPER SALE!
We've set aside some of our world famous scratch + dent posters. This is your chance to pick out some of your favorite slightly less-than-perfect Burlesque prints and save big! Of course we'll also have the rest of our catalog of new and classic sticker packs, shirts, and signed & numbered screenprints available for purchase.
(FRI 5-8 / SAT 12-6 / SUN 12-5)
CO ART MARKET
Peruse the creative offerings of some of terrific local artists and crafters: Michael Cina (painting), Josh Journey-Heinz (illustration, painting), 3 Fine Pieces (jewelry), Presh! (hats), Karen O'Bryan (jewelry / illustration), RM Hanson (curiosities)
(FRI 5-8 / SAT 12-6 / SUN 12-5)
ISAAC ARVOLD CLOSING PARTY
Come take one last look at Isaac's "Second Hand Emotion" show before we send it on back to Brooklyn. There will be some brand new art added by Isaac as well as live music from SEAWHORES (audio / video experimental bonanza with visual collaborations from Wes Winship and Matt Visionquest), WOLF LORDS (Grant Cutler & Aby Wolf's brand new project) plus DJ sets from JIMMY 2 TIMES & LAST WORD (from Get Cryphy!)
(SAT 7-10)
CHEF SHACK!
The largely acclaimed Chef Shack food truck will be parked right outside our building Saturday from 3-10pm selling their delicious pulled pork tacos, tempura soft shell crab sandwiches, bacon beer brats, hot dogs, and those fantastic Indian-spiced mini-donuts!
(SAT 3-10)
ART CASINO
Take a chance and win big to save on art throughout our gallery, plus all kinds of giveaways and goodies. Free chances to play just by walking through our door!
(FRI 5-8 / SAT 12-6 / SUN 12-5)
+ + + + + + + + + + + + + + + + + + + + + + + + + + + + + +
BONUS
We will have some posters and fun stuff on display and available for purchase at Tarnish & Gold all weekend long. Stop on over and take a look and grab some goods!