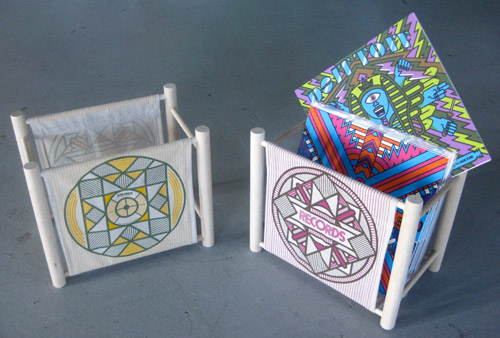 Announcing the first in what will hopefully be a long and fruitful line of home furnishings from us here at Burlesque. We all teamed up to put together these handsome record cases. Organize your vinyl collection in style with these red hot cases featuring awesomely explosive geometric patterns screenprinted onto canvas and stretched across a wooden frame, all made from scratch by the Burlesque crew. Holds approximately 50 standard sized LPs, or can be used to store books and magazines. Two different designs printed on each case, available in two different colorways.
Available EXCLUSIVELY live in person at CO Exhibitions! Stop by our shop to grab one of these record cases.
Design by Mike Davis
Screenprinted by Peter Bekke
Canvas sewn & assemvbled by Jodi Milbert
Wood cut and assembled by Wes & Larry Winship
GO TEAM!
$30