John Baizley's Phaedra art print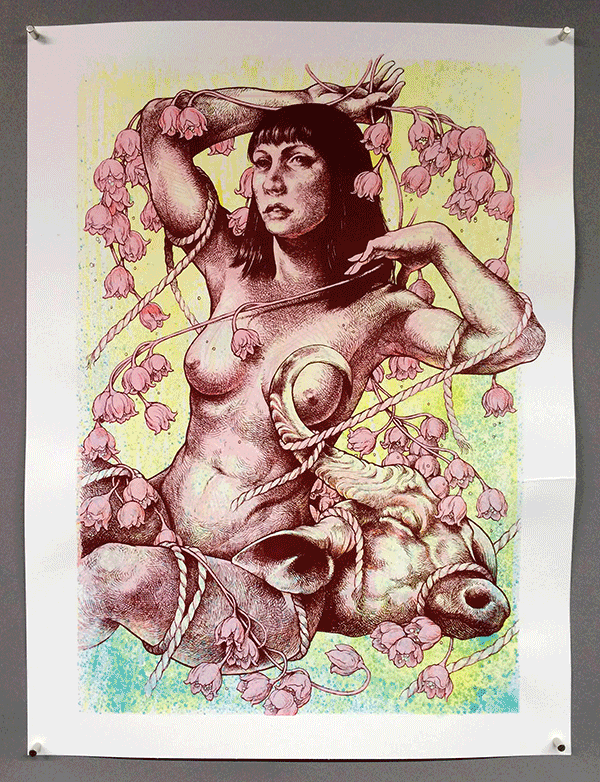 Today at a random time, we will be releasing a brand new art print from John Baizley. Entitled "Phaedra," this print was created entirely from conception to completion in less than one week.
Tuesday October 27: John arrives in Minneapolis. A model by the name of Elektra Cute came to our studio for a live drawing session where John worked out some sketches and began brainstorming ideas for a full print image.
Wednesday October 28: The full-size sketch begins.
Thursday October 29: Sketching is complete and inking begins.
Friday October 30: John finishes inking and Wes scans in the final drawing to prepare it for print, combining the final inked artwork with a detailed layer of John's rough sketch. Wes also begins creating one-of-a-kind custom backgrounds using a mix of spraypaint and other inks on assorted paper.
Monday November 2: Custom backgrounds are completed and three layers are screenprinted on top.
Tuesday November 3: The prints are trimmed and ready to be shipped to John for signing, numbering, and embossing.
Check for these prints to hit our online store today at a random time. They will be shipped out once John has signed and returned them to our studio.
Here are a few behind-the-scenes images from the creation of the Phaedra art print.