Creating Jacob Bannon's "Year Of The Hare" prints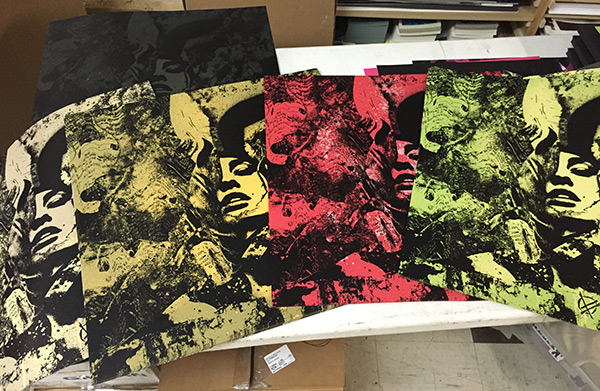 Recently, we recently completed production of "Year Of The Hare," a new series of one-of-a-kind prints from Jacob Bannon, based on his artwork for Deathwish recording artists Fucked Up's album of the same title.
We love having the opportunity to print the artwork that Bannon creates when he's not busy providing lead vocals for Converge or helping run Deathwish Records. This project might have been our favorite as we were given the chance to have some creative input of our own. Each print began as a discarded test print from our studio - stacked with multiple layers of mismatched elements from a range of poster projects. From there, large washes of colors and patterns were applied and some prints even got a hit of bleach. Finally, we sealed the deal with the main Year Of The Hare artwork, printed in super glossy black UV ink.
Here's a video that shows some behind-the-scenes shots from the production of these prints:
These prints are available right now in Jacob Bannon's online store and will soon be available in ours. Don't miss your chance to grab one of these truly unique prints!