Not gonna lie. It was an undeniably weird year. Through all the dark energy and shit, we pushed through and worked on some cool projects that we're really proud of. Here are some of our favorite things we were a part of this year in our attempt to make this world a better and nicer-looking place.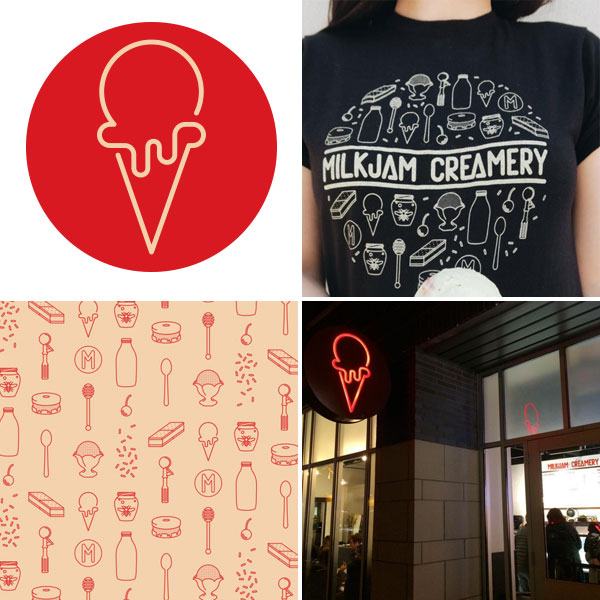 World Street Kitchen's Sameh and Saed Wadi opened up a gourmet ice cream shop next to their Lyndale Avenue location. We designed the logo, signage, and other branding elements. Even in the dead of winter, Minneapolis food lovers lined up down the street to celebrate the grand opening.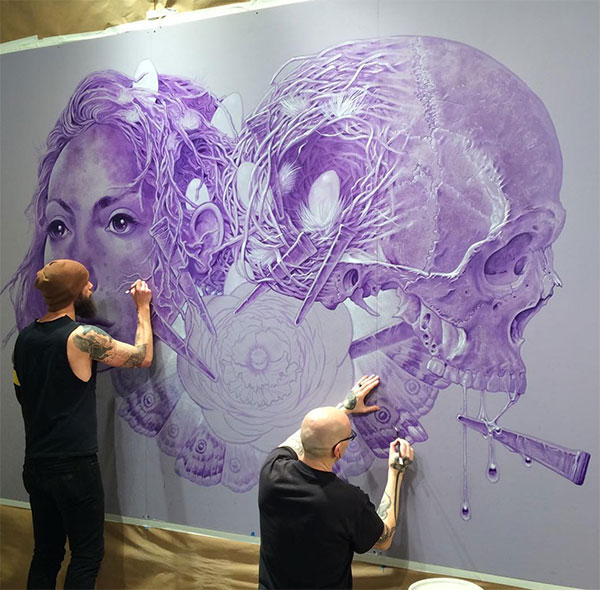 Marald Van Haasteren and John Baizley joined forces for their "Desperation Burns" art show in our own CO Exhibitions gallery in February. The show collected both artists' work from Baroness' "Purple" album packaging.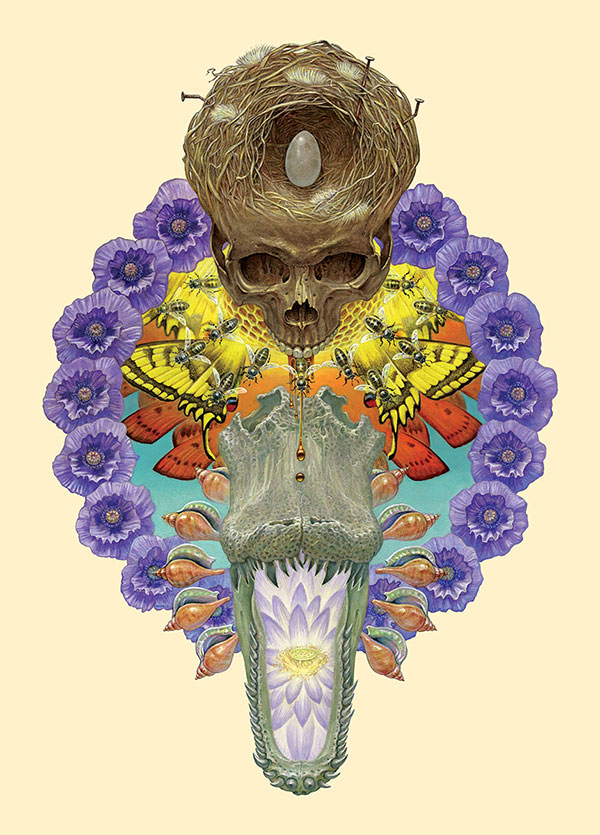 The title piece from "Desperation Burns" by Marald Van Haasteren. We turned this one into a 20-color screenprinted art print.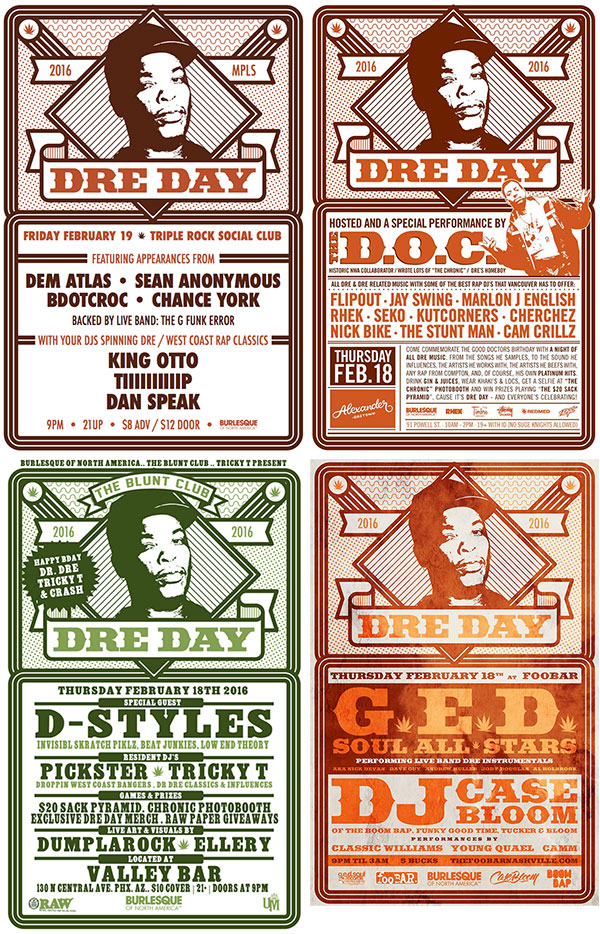 Just a sampling of the 20+ Dre Day parties that popped off across the globe this February in celebration of the one and only Dr. Dre!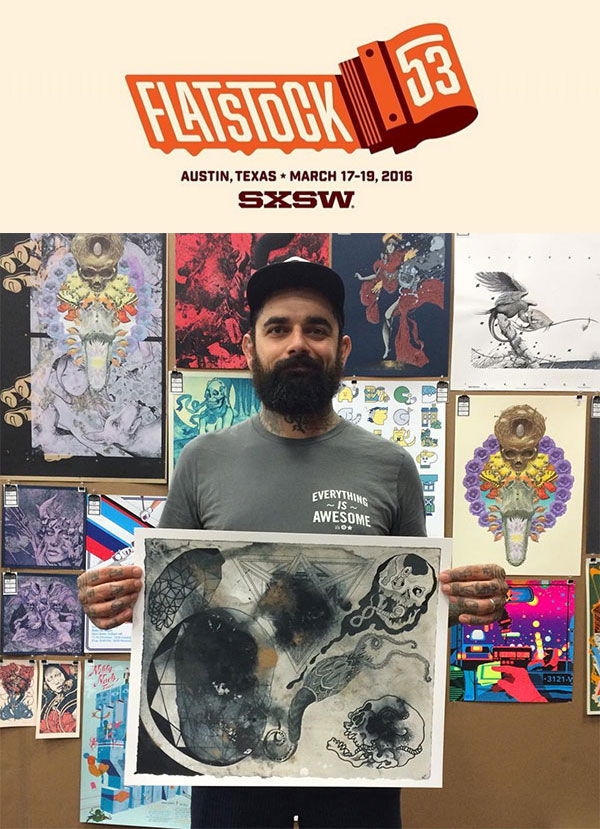 We had a blast at Flatstock 53 during SXSW! Got to hang out with our buddy Thomas Hooper (pictured here showing off his print we debuted at the convention), spin some music with Bird Peterson and paint some murals at the W Hotel, got Jodi, Ben, and Sarah some new ink from Thomas at his Rock Of Ages tattoo shop, and of course we ate a significant amount of BBQ.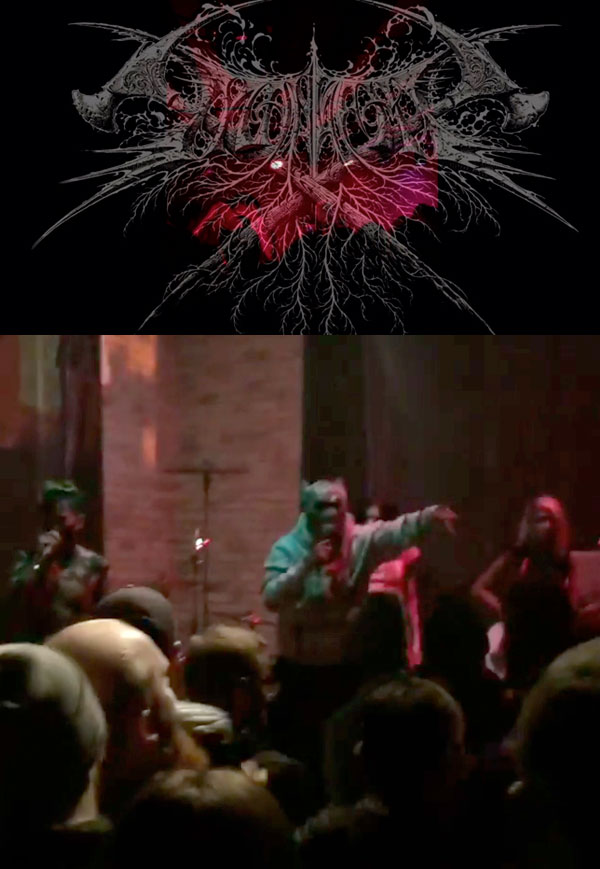 David Choe brought his rock group Mangchi to perform at CO Exhibitions for an unforgettable wild night of explosive music and visuals.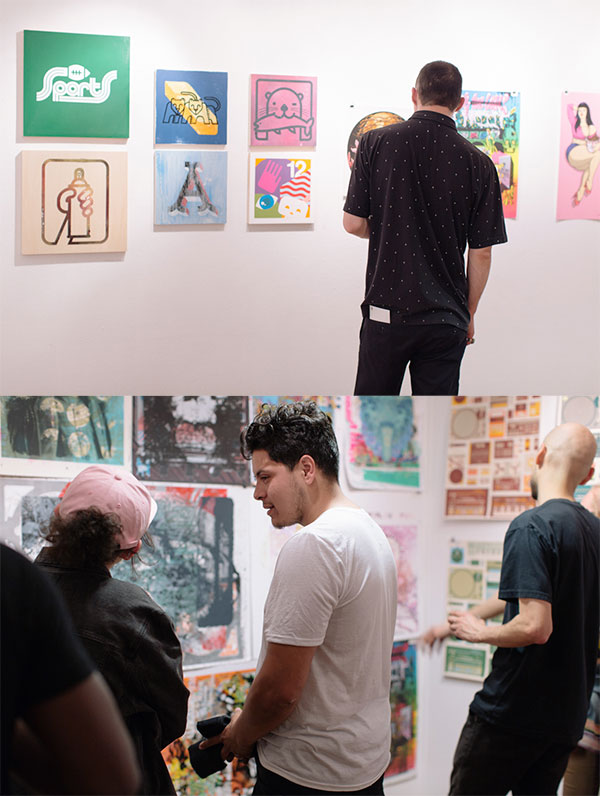 We opened a show of screenprinted posters and original paintings at Compound Gallery in Portland OR.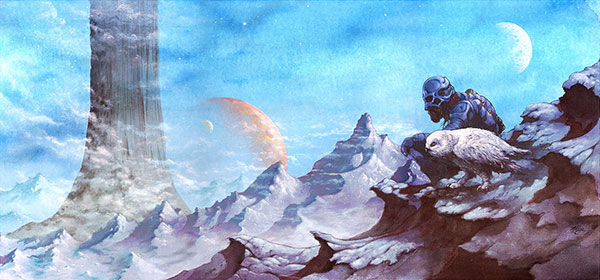 Arik Roper created this gorgeous illustration for Kvelertak's new "Nattesferd" LP and we turned into a 12+ color art print.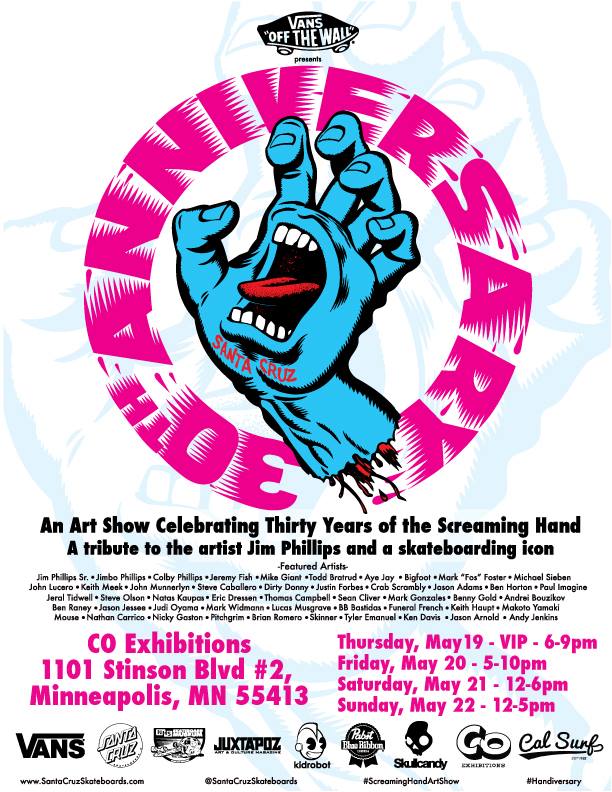 Santa Cruz Skateboards toured across the planet with their Screaming Hang 30th Anniversary art show, landing at CO Exhibitions for a weekend-long showing in Minneapolis.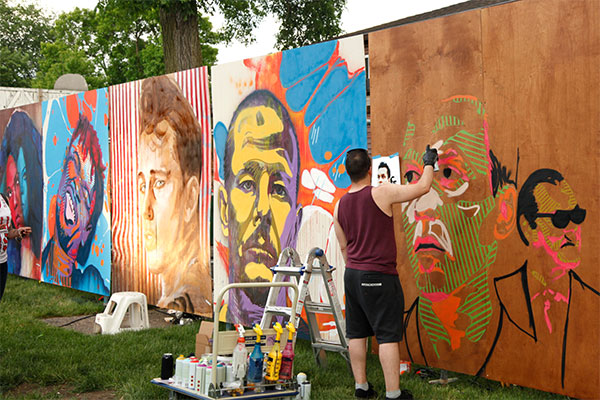 Wes Winship painted 8 macro-portraits of Rhymesayers artists and other performers at Soundset Festival at the Minnesota State Fairgrounds.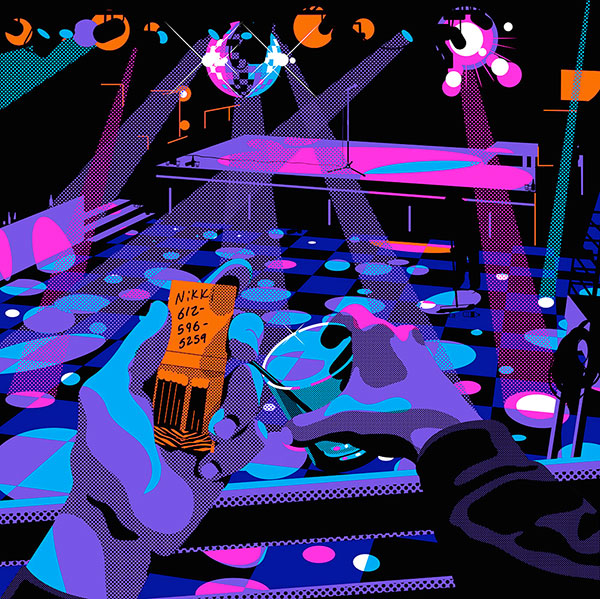 We printed and published "Darling Nikki," a new fluorescent Prince tribute print from artist Vizie.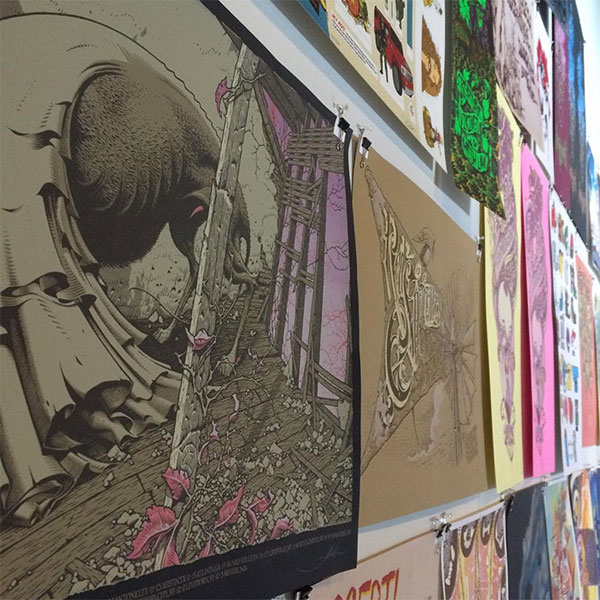 We celebrated one decade of hard work here at our Stinson & Broadway location with the opening of our 1101X10 retrospective art show.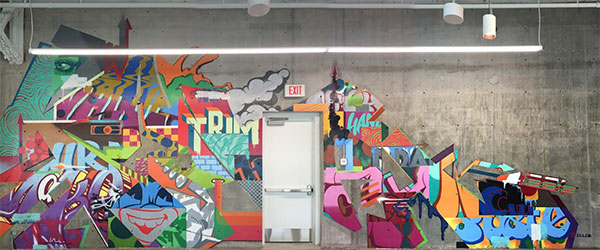 We launched the BRLSQ Public Works Division, dedicated to creating large scale murals and public art installations. Shown here is a mural commissioned by 3M which was painted inside their new Design Center.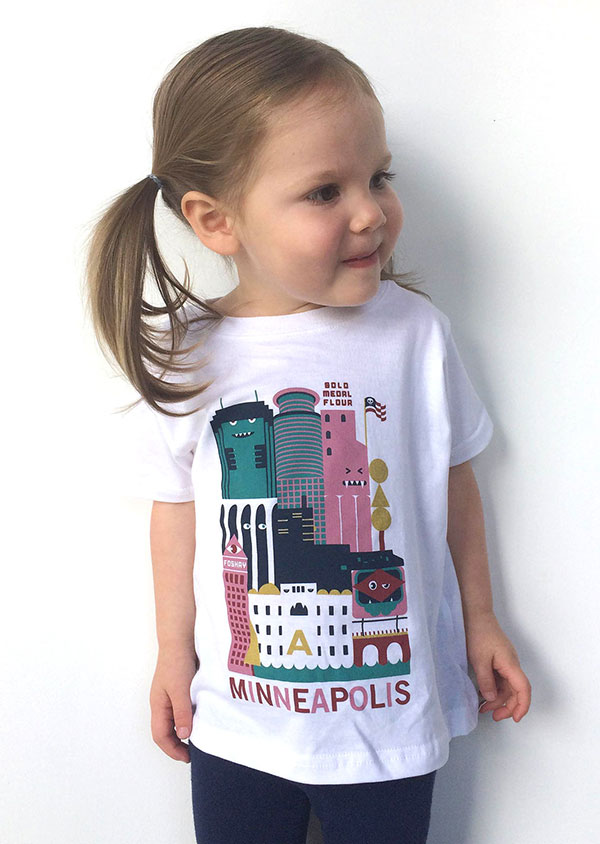 Mike Davis designed something new for the kids! Here's our Minneapolis Monsters t-shirt, which Mike debuted at the fourth annual Shirt Show held in August in downtown Minneapolis.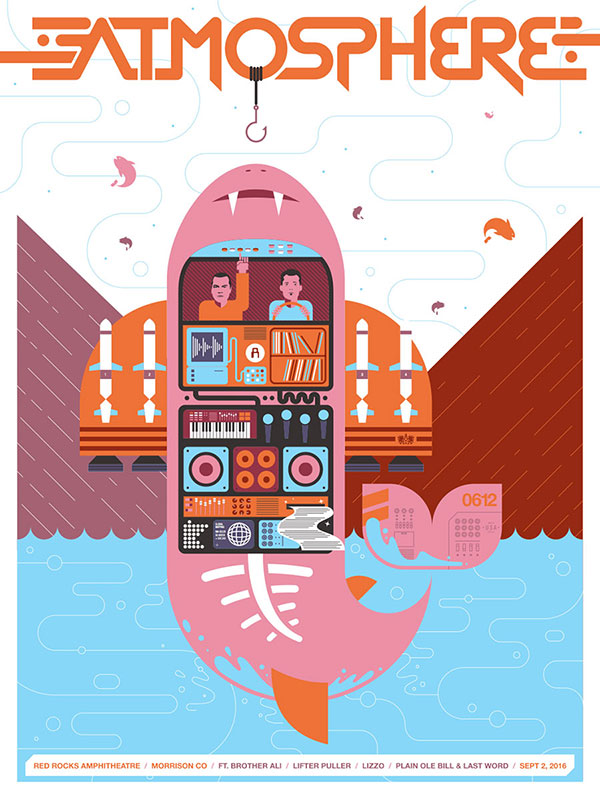 Atmosphere returned to Red Rocks Amphitheatre for another big show and brought back Mike Davis to design another big poster.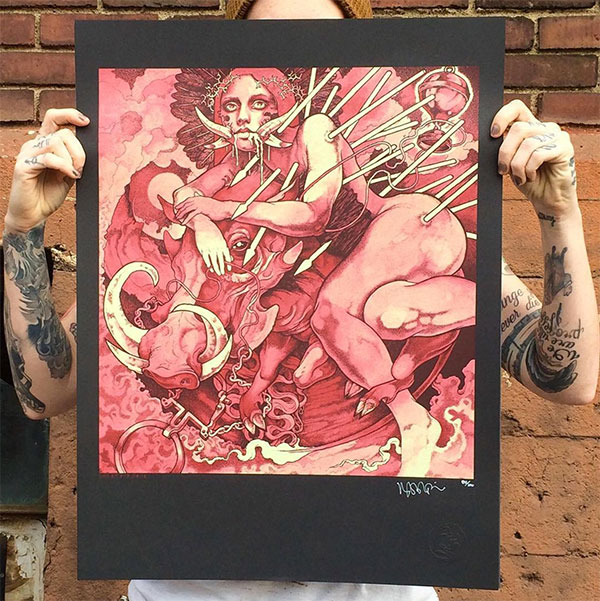 It was a big year of touring for Baroness, and we produced a number of monochrome versions of John Baizley's art prints for him to bring along on the road. We loved getting to watch John and band tear it up at Cabooze in August!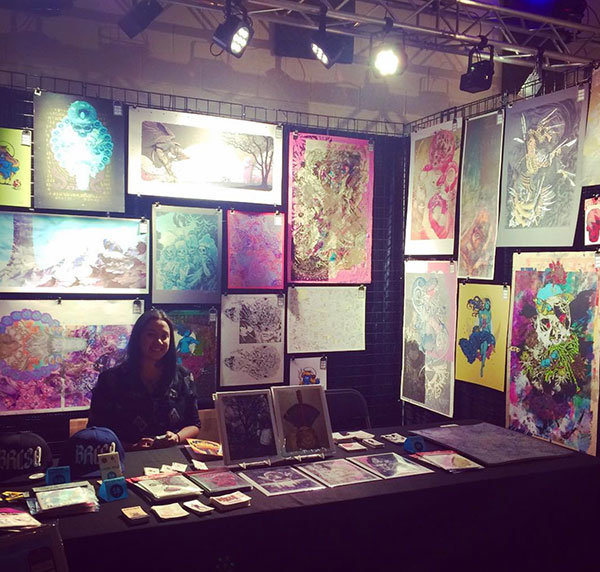 The third annual MondoCon was a smash! We set up shop in Austin and sold some prints while getting to see some of our favorite art friends. Here's Sarah holding down our booth.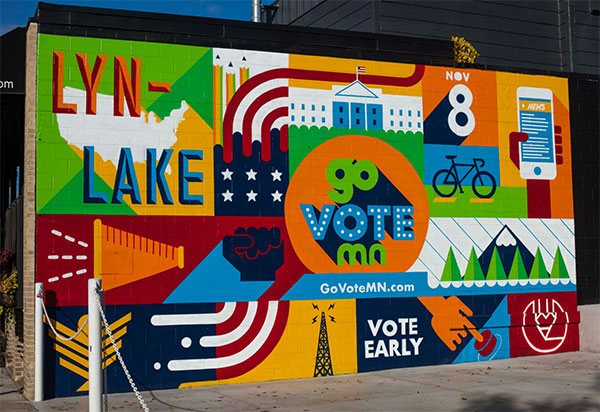 Wes and Nick from our Public Works Division turned Mike's Go Vote MN graphics into two giant murals in South Minneapolis. The campaign, sponsored by the new Go radio stations, was aimed at registering new voters and increasing awareness and enthusiasm about the election.
Jacob Bannon's "Unloved and Weeded Out" was produced as an edition of one-of-a-kind prints, each featuring bleached, painted, and/or hand-marbled paper.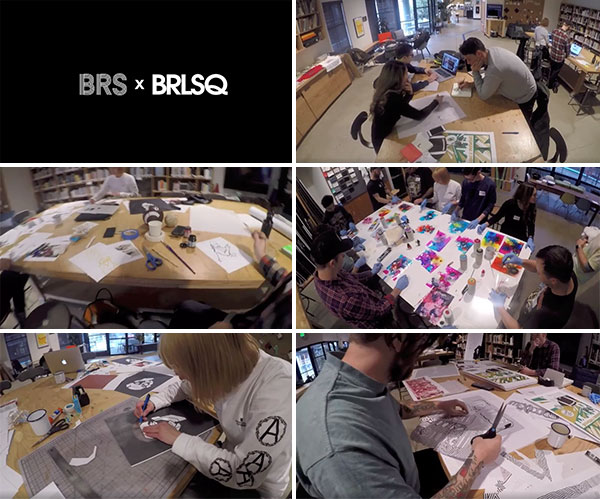 Mike and Wes led a poster-design workshop for designers at Nike's Blue Ribbon Studio outside of Portland, OR. Our guys dropped some knowledge jewels and oversaw three teams of designers creating sports-related posters using no computer design software. It was refreshing and inspiring for their team as well as us to get to be a part of this exercise while also getting to experiment in Nike's state-of-the-art design playground.
Our Public Works Division capped off the year with a series of large format murals inside the new T3 office building in Minneapolis' North Loop. Shown here is a sampling of the paintings which highlighted the area's history of timber, technology, and transportation.