Cinco De Mayhem 2015 is coming!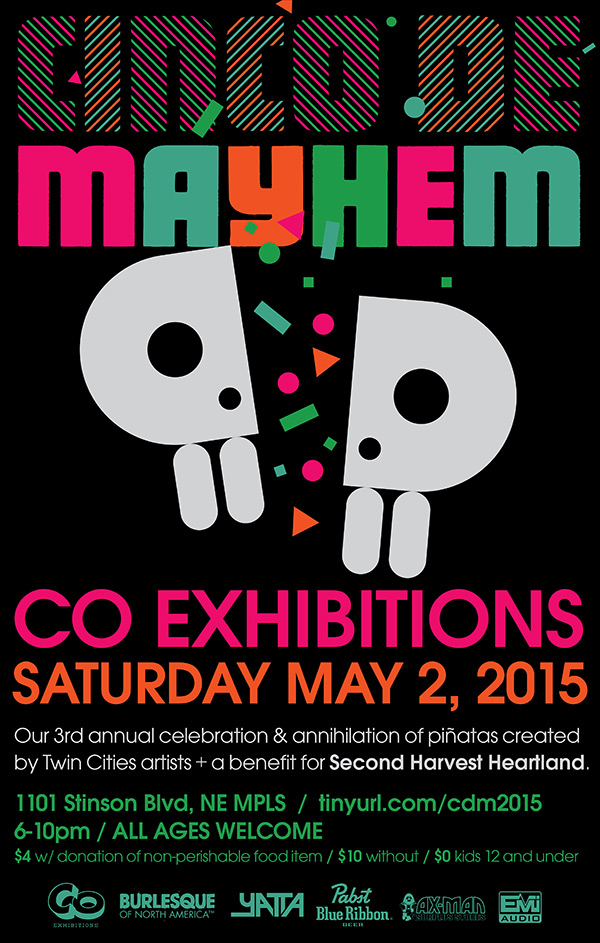 Our third annual celebration and annihilation of artist-built piñatas is coming to CO Exhibitions on May 2nd, 2015... and we want YOU to be a part of it!
Ready to build the craziest piñata anyone's ever seen and watch it get smashed to bits in front of a captive audience? Drop us a line!
Email us at info@burlesquedesign.com. Be sure to include a LINK to a website where we can see some of your past artwork.
THE RULES:
• Be ready to turn in your piñata by April 27th
• Make sure it will fit through a standard doorway.
• Piñatas should include some kind of hook or loop so it can be attached to a rope or carabiner.
• Don't fill it with anything hazard, flammable, liquid, or perishable. If the post office wouldn't mail it, then we don't want to clean it off of our gallery floor!
• Don't fill it with any unwrapped food!
• Kids will be attending this events, so keep it Rated PG-13 and under if possible.
Here's a look at how crazy last year's event went. Hope to see you May 2nd at CO!
!!!CINCO DE MAYHEM!!! from YATTA! on Vimeo.