Do it To it III CD - a closer look
Here's a peek at the packaging for the brand new DO IT TO IT III compilation CD.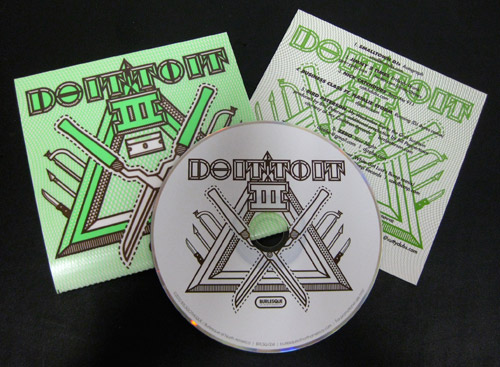 The sleeve is screenprinted in two colors (brown & fluorescent green) on CLEAR vinyl sticker paper.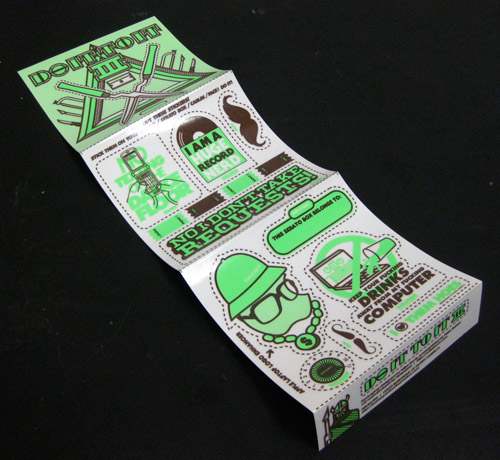 Unfold the sleeve to find two panels of stickers, all with clear backgrounds. Stick them on your laptop, car bumper, phone, Serato box, or anywhere else that needs them.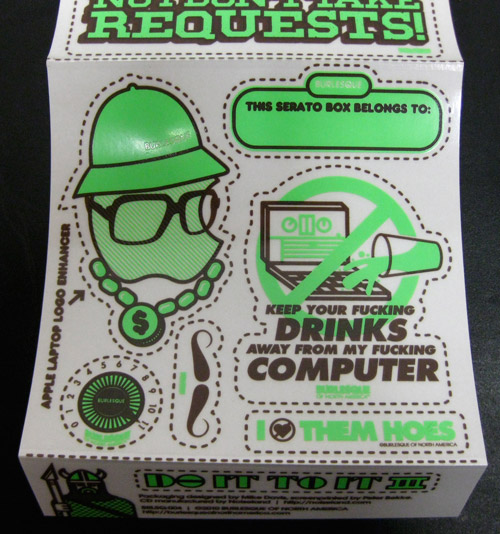 Do it To it Volume III preview by Mike 2600
Be the first to grab a copy of the CD at the DO IT TO IT party / DJ showcase.
Thursday March 18th
Silhouette (718 Congress Ave)
8pm - 2am
21up / free with RSVP
THE LINEUP!
8:00pm - Jimmy 2 Times (Get Cryphy / MPLS)
8:45 - DJs Pump & Hedspin (Eh! Team DJs / Calgary, Vancouver)
9:30 - DJ Mel (Rock the Casbah / Nasty's / Austin)
10:15 - Mike 2600 (Burlesque / Crossfaded Bacon / MPLS)
11:00 - Prince Klassen (Fully Fitted, Austin)
11:45 - Smalltown Romeo (Hai Karate / Plant Music / Calgary)
12:30 - Cubic Zirconia (live performance / Don't Cry / NYC)
1:15 - Bird Peterson (Undocumented / BP Americo / CA via TX)
After SXSW, the CDs will be available through our online store. Sign up for our mailing list for all the details!