Apocalyptic Mongoloid Ocular Variant Infestation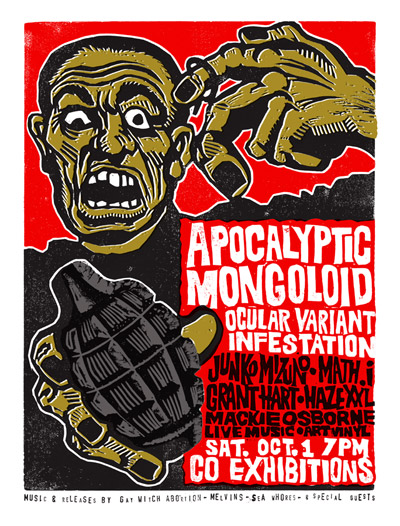 Our friend Tom "Haze XXL" Hazelmyer approached us about putting on an art show at CO Exhibitions. When Haze puts on an art show, he doesn't just hang up a few drawings and call it a day... he creates a full-on assault of the senses. The walls of CO were covered with one-of-a-kind collaged and printed vinyl jackets for The Melvins, Grant Hart, and Seawhores, prints by Mackie Osbourne, as well as paintings and original poster mechanicals by Japanese pop artist Junko Mizuno, who flew in from her new home in San Francisco to attend the opening.
On stage, a live video feed of Gay Witch Abortion and Seawhores was being projected onto a screen as the groups noise-rocked the night away down below in our screenprinting studio.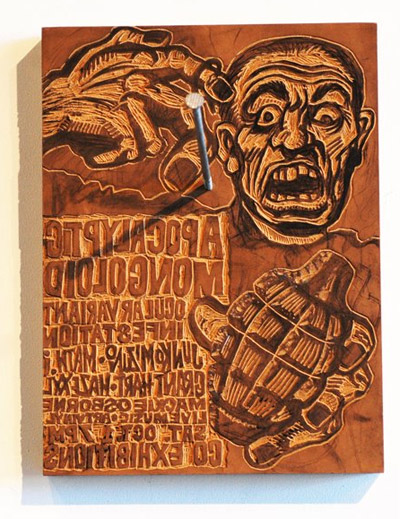 Haze's poster for the show started its life as a linoleum block. He cuts and chisels these down by hand, inks the block and uses it to create a linocut print. We took a scan of the black and white print, and, under his direction, scaled and colored the art for the screenprinted posters. That's not one, but two types of printing! These were posted around town and made available at the on October 1st opening. If you missed the one-night-only affair, here's your chance to pick up one of these cool and creepy ass prints!
100 prints, signed and numbered by Haze XXL.
Features metallic gun-metal black and metallic yellow inks!
19 x 25"
4 color print on 100lb acid-free white paper
Copies of this print are available now in our online store!