Let Us Stuff Your Stockings!
Looking for some inexpensive items to fill those Christmas stockings with? Look no further! We've got all the sticker packs, miniprints, 40 oz koozies, and NSFW boxcutters your friends and family will love. Read more after the jump...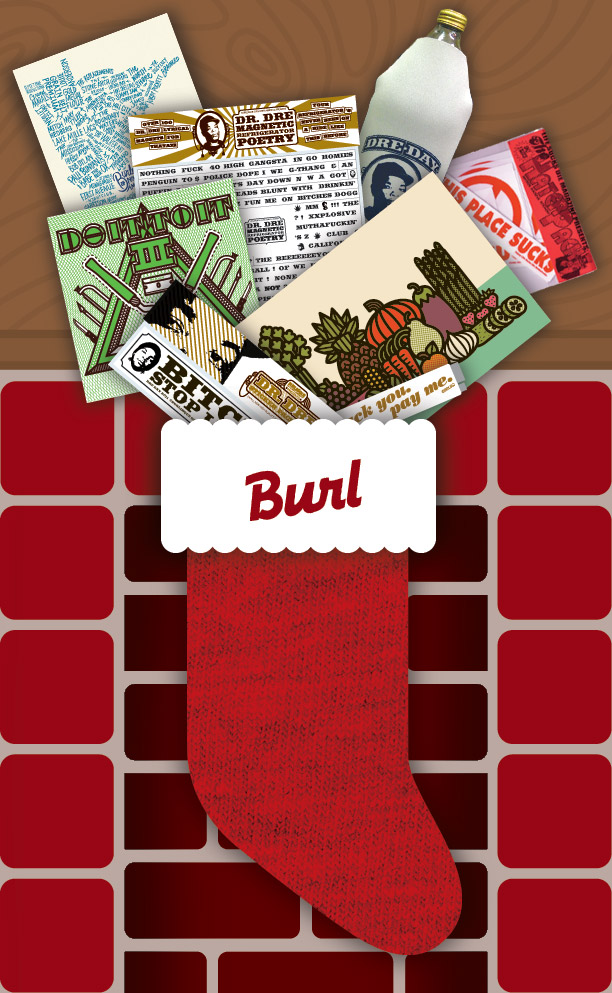 Pick up these stocking stuffers for just $10 or less each!
Minnesota Pride Miniprint: Share a little bit of Minnesota Love with Peter Bekke's homegrown handstyles.
Dr. Dre Magnetic Refrigerator Poetry: Whether your holiday party fridge is filled with eggnog or malt liquor, it should definitley be covered in your own Dre-inspired rap lyrics.
>Dr. Dre 40 Oz Koozie: Your friends don't want to freeze their hands while enjoying a frosty Olde English, do they? Nope.
Hater Pack: Spread the love by spreading the hate. Perfect for your overly-cynical friends with no good outlets for their dismal view of the world.
Do It To It III CD: Your musically-inclined friend will love our compilation of dancefloor-friendly jams from Nick Catchdubs, Bird Peterson, and Smalltown DJs. Complete with screenprinted sticker packaging!
Dr. Dre 2011 Sticker Pack: Our newest collection of stickers featuring classic quotes from Snoop, Ice Cube, and the Doctor himself.
Fuck You Pay Me Boxcutter: Great for your friends who need help in the self-defense department... or your friends who just suck at opening boxes.