From The BRLSQ Vault! Fog ""10th Avenue Freakout"" release print

Introducing a new segment we'll be airing from time to time on the ol' Burlesque blog. Here we'll feature posters and older design and print projects which may have been out of the spotlight for a minute but still pack as mean a punch as they did on day one. You could call this a modern day version of "Things You May Have Slept On." (REAL HEADZ KNOW THE DEAL)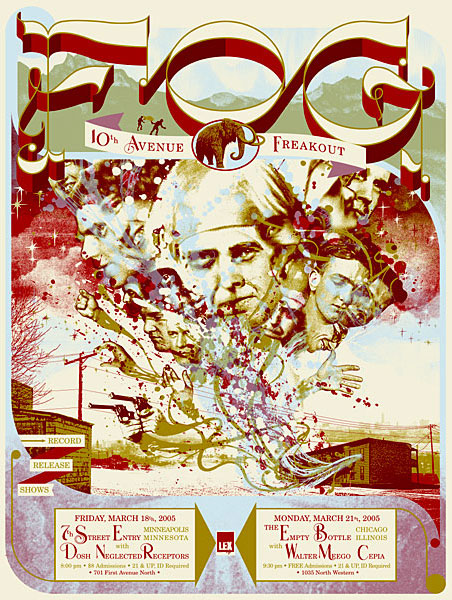 Here we have Wes Winship's poster for Fog's "10th Avenue Freakout" album release shows at Minneapolis' 7th Street Entry and Chicago's Empty Bottle. Read more after the jump...
Wes really captured the multi-instrumental musical madness of Andrew Broder's 2005 album. By this time, Broder had moved away from the turntable and sample-based sounds found on the earlier Fog records and had been taking a more rock music approach, a perfect leadup to his current group Cloak Ox. Layers and layers of faces, freaky shapes, and memories all waft out of the window of the little house on 10th Avenue North where Andrew was living while working on this album.
Copies of this poster are still available, so head on over to our online store to grab yourself a copy!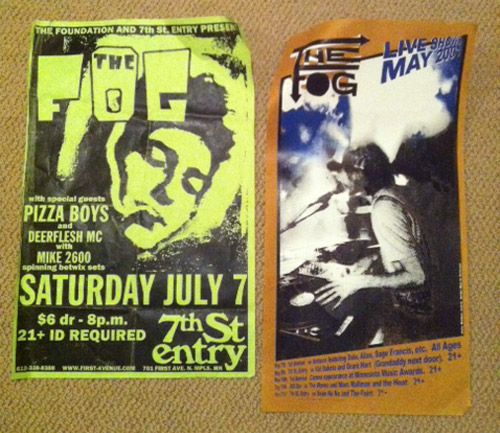 RELATED: I found these two Fog posters at my parents' house over Thanksgiving. On the left is a First Avenue-designed poster for a Fog show in July 2001 featuring Saint Paul's Pizza Boys and an opening set by my younger brother Deerflesh MC with me DJing. Chunks of the night were videotapes and just might have to make their way onto the internet at some point. Everyone brought their A-game to that show. It was my first time DJing in the Entry and the night before I competed in the DMC Regional DJ battle at Quest (now known as Epic) in downtown Minneapolis. The poster on the right is a very early example of Wes Winship's screenprinted work - a three-color print for Fog's May 2001 shows around the Twin Cities. Mega-classic!