Talkin' with Jimmy 2 Times

We're close enough to count down the hours until Jimmy 2 Times and I take over First Avenue's Record Room for EXTRA LARGE's big one year anniversary bash. Here's what my esteemed guest had to say about his DJing background and much more. Read up and then don't you dare miss out on EXTRA LARGE this Friday!
MIKE 2600: Please introduce yourself to this corner of the internet, Mr. Two Times.
JIMMY 2 TIMES: Hi corner, I'm Jimmy2times.  I live in Minneapolis and you might have seen me DJ with my crew Get Cryphy at the party of the same name or maybe at BOMP, Triple Double or various other jammy jams. I lived in Brooklyn for awhile and now I live in Minneapolis again. Huzzah!
What is your DJing background? Who are some of your early influences and how did you start collecting and scratching records?
My earliest memory of thinking "hey I wanna do that" was seeing a really shitty bootleg VHS tape of the 92 Supermen battle where DJ 8-ball did his black sabbath and g-thang tone routines.
I grew up in upstate NY (Albany and Rochester) and while I was really into hip hop as a kid, there was no hip hop scene to speak of there. There was however a pretty strong rave scene that spilled over from Buffalo and Toronto so I'd get to see scratch DJs in the jungle room or whatever every so often. Downtown Rochester had some really great record/jewelry/pager repair stores too(The Spot, what up!) and you could grab most of the hot records at the time pretty easily. Since there was a lot of house/techno record stores upstate as well, I had my fair share of house and drum n bass back then too.  I started DJing more and more at the end of high school and came up playing college parties and raves, then later got into battling which I'd say was my main focus for awhile there before I moved on to clubs and throwing parties.
  Get Cryphy is pretty much a household phrase in Minneapolis at this point. Wanna tell us your version of the story of how the night started and how the sound developed?
  Damn that's an ill way to phrase it, thank you!  I'd say you can trace Get Cryphy back to when Bill and I were DJing a Saturday night weekly called Party & Bull$h!t at the now defunct downtown Minneapolis club, Foundation, which closed at the end of 2007.  We had a lot of great experiences at that club, but ultimately we weren't always encouraged to take chances as DJs or even play to the crowd that came regularly. By the time Foundation closed, Party & Bull$h!t had become a regular kick it spot on Saturday nights for a lot of our friends in the local hip hop community. We wanted to be able to have a space where those folks could still come party with us regularly and where we could do us and play the songs and styles we were hyped on that weren't being represented in Twin Cities clubs or dance nights(crunk, hyphy, bmore club, juke, etc.).
At the time (early 2008), First Avenue had first Fridays in the (then) VIP Room open, and they liked what we presented to them and let us have it for a 3 month trial period.  Back then, Bill was "the dude behind the counter" at fifth element, and Cryphy was a word we'd throw around while posted up at the store clowning and watching mad youtube videos, so when it came time to name the night we just went with it. Things were a lot different then too, since the newish dance party scene that's come about over the last few years in the Twin Cities was only just getting off the ground at that point. I can honestly say Get Cryphy hit the ground running and hasn't stopped since then. About a year into the party, our great friends DJ Fundo and DJ Last Word joined the crew and we've continued on with that line up ever since.
The sound has pretty much evolved with our tastes while keeping its basis in high energy rap and party music. As we've all grown into producing our own tracks and remixes, there's been a lot more of our own sounds becoming staples of the party each month as well as in our Get Cryphy mixes.

The flyer for the very first Get Cryphy party.
  You and Plain Ole Bill have been doing the four turntable thing for a while now. How has your chemistry changed since the first times you spun together?
Our first 4 turntable set was at Bill's mix cd release party at the Dinkytowner in June 2005, so we've been at it for a minute. Neither of us got Serato until 2007 so those first few years of DJing on 4 decks together was done on all vinyl. Our backs are both in a lot better shape now, as we'd typically bring anywhere between 4-8 crates between the 2 of us when DJing a party or club night. Back when we started doing 4 turntable sets there was a lot more beat juggling and scratch routines going on, because that's where we were at as DJs at the time, and also a big part of where we both come from in terms of early DJing influences. I'd say we've come a long way since we started doing 2x4 sets because DJing with another person simultaneously definitely takes more concentration than solo DJing. As we've grown into that, its become easier to get into a zone where we can concentrate more on programming our set and getting parties as live as possible, while giving people something to watch too.

photo by Wezz Winship
  So you're kind of a major comic book head. Should we even get into this? What are your favorites? Least favorites? Want me to just open this part of the interview up for like Jimmy 2 Times' comic book rant and rave section? GO!
Yeah "kind of" are definitely the key words there since I sold the majority of the comics I collected as a kid years ago.  There were some really great comic shops that I wandered into when I was staying in Brooklyn for awhile last year (Bergen St. Comics What up!) and just got caught up in reading a few graphic novels, which led to me coming back for new comics every week. I tend to check out anything Garth Ennis writes (Preacher, The Boys, The Punisher, Jennifer Blood) and I also like Mark Millar's stuff (Old Man Logan, Kickass, Nemesis, Superior, Superman: Red Son) despite the comic store dudes saying I shouldn't like him (_____,_______, ever).  I still check out super hero comics like Ultimate Spiderman, and I've also been checking for all the recently relaunched DC comics (Batman, Superman etc). To me those always sucked ass and DC is doing a relatively good job of making those characters relevant again. Now if you'll excuse me, I have to go take my allergy medication and play a few hours of World of Warcraft....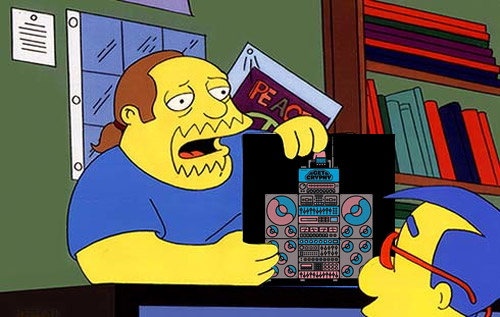 Comic Book Guy schooling Milhouse on that real rap shit
  I also know that, like me, you enjoy a nice hamburger. What are some of your favorite Twin Cities burgers?
I definitely have a weak spot for delicious burgers. My favorites are definitely the Ike Burger from Ike's downtown, The Nook's Juicy Lucy, and the Vincent Burger from Vincent (or Target Field!). Goddamn, those are some tasty burgers. nuff said!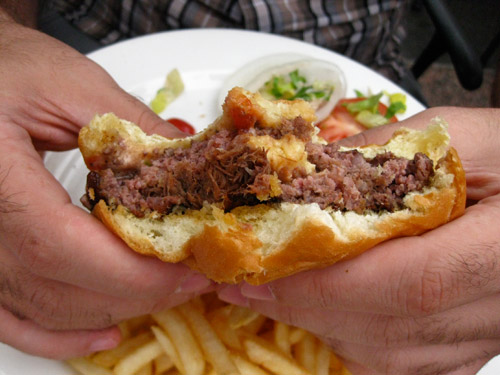 Jimmy 2 Times enjoying a Vincent Burger
  Favorite music releases of 2011 thus far?
Right now my favorite things are the Watch the Throne record, Mr. Muthafuckin eXquire's Lost in Translation, my man Prof's new record King Gampo and even though it came out in 2010, I wanna get drunk by DJ Felli Fel f/Lil Jon, Fatman Scoop and Three6mafia.
  Any new music projects of yours we should be checking for?
If you haven't already, check out my Soundcloud page, you can find a lot of blends and remixes I've done in the past there. Currently I have some new blends that I'll be posting very soon.  A lot of the new blends utilize the great work Sims and Lazerbeak did recently on their Bad Time Zoo album, combining their beats with vocals from T.I., Busta Rhymes, Lil Wayne, Trae the Truth, Gucci Mane, Bun B, Rick Ross and David Banner. Also, the Get Cryphy 4 year anniversary isn't far off, so the crew and I have started putting our heads together for this year's Get Cryphy megamix.  I'm excited for the colder temperatures to come our way because that's when I get the most work done musically.  Also, don't forget to check out the Get Cryphy blog for a ton of blends edits and remixes from the rest of the Cryphy crew - Plain Ole Bill, Last Word and DJ Fundo).
 See you Friday!