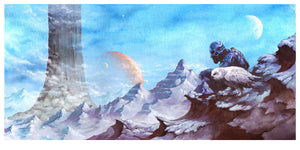 Arik Roper: Kvelertak art print TIMED EDITION
UPDATE / JULY 7:
 The posters are signed, numbered, back in our studio, packed in tubes, and will be picked up by our postal carrier today! They are headed out the door to you!
- - - - - - - - - -

UPDATE / JUNE 27:
Printing is complete! We finished putting down every layer of ink and these things look gorgeous! The prints have been trimmed and are now on their way to Arik's studio, where he will sign and number them.



- - - - - - - - - -



UPDATE / JUNE 22:
Printing is nearly complete! We have 12 colors down on paper and it's safe to say we're in the home stretch. Next steps: Finish printing the final colors, trim the prints down to size, BRLSQ ships prints to Arik for signing / numbering, Arik ships signed prints to BRLSQ, BRLSQ mails out poster orders.
Than you for your patience while we continue to work on this project!
- - - - - - - - - -
This 
TIMED EDITION
ended May 20th at 5:00pm Central time. Thank you to everyone who pre-ordered a copy of this print! Keep an eye on our
Instagram
account for updates as we begin print production!
Norwegian metal lords Kvelertak recently released their new album 
Nattesferd
, 
complete with album artwork from the talented Arik Roper.
We will be producing a full-color art print based on Arik's outstanding illustration as a timed edition starting
 NOW!
36 x 18"
10+ color on 
100% cotton Crane Lettra white paper.
Arik Roper's artwork deserves nothing but the best, so we are giving it our proprietary stochastic printing treatment to bring it to life in full color. Arik's work has many beautiful blends so the print will require at least 10 screens to achieve the full depth of his image. We will be posting progress shots on our blog and
Instagram
 as we build the print so you can follow along. As it nears completion, we'll determine what will really knock it out of the park and add additional colors as needed. Once the print is completed, the prints will go to Arik for signing and editioning, then returned to Burlesque HQ where we will ship them to you.
This Timed Edition starts now and runs until

Friday May 20th, 5pm

Central Time.
Regular price $50.00 Sale